Nutrition
Good nutrition is an essential part of a healthy lifestyle. Here are some resources to help you learn more about making healthy choices.

On this Page:
Nutrition Resources Available on YouTube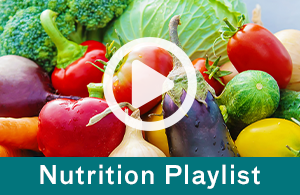 Looking for more information about nutrition? Check out the LiveWELL Nutrition playlist on YouTube for healthy, affordable recipe options.
In The Kitchen with LiveWELL
LiveWELL presents, In The Kitchen with LiveWELL, a series where your LiveWELL team shares new and different recipes. Each cookbook PDF shared below includes the recipes and links to the videos. All recipe videos can be viewed on the LiveWELL Nutrition playlist on YouTube
Printable Cookbook Recipes
2023 Digital Cookbook - Recipes coming soon!
---
LiveWELL Presents: A Taste of African Heritage
A Taste of African Heritage is a 6-week virtual cooking and nutrition class that celebrates the healthy, vibrant, plant-based food traditions from across the African Diaspora. Participants expand their knowledge of nutrition and learn simple cooking techniques for healthy living based on delicious African Heritage food traditions.
Learning more about African heritage and culinary history
Add more flavor and nutrition to your life
Get healthier and join a virtual cooking club with teammates across the enterprise
Learn how to cook easy, plant-based meals
Connect with other participants on a private Yammer community
Thursday February 16 through March 23, 2023 | Thursdays | 12:30 to 1:15 p.m.
Registration will be available here
Watch overview video with cooking demo
---
Discover the 10 Principles for Nourishing a Healthy Relationship with Food, honor your health by listening to your body, reduce weight stigma and body shaming to accept that healthy bodies come in all sizes. This 6-week Intuitive Eating series will be offered several times throughout the year. Note: the fourth edition book and workbook are recommended for the class but not required to enroll.
Intuitive Eating Winter 2023
January 12 through February 16 | Thursdays | 12:00 p.m. to 12:45 p.m.
Registration will be available here

Intuitive Eating Spring 2023
April 4 through May 9 | Tuesdays | 11:30 a.m. to 12:15 p.m.
Registration will be available here

Intuitive Eating Summer 2023
July 19 through August 23 | Wednesdays | 12:30 p.m. to 1:15 p.m.
Registration will be available here
---
Healthy Food Environment
All teammates can help support a healthy food environment. Consider these Atrium Health guidelines when planning to order food for your next event.
Offer at least one serving of vegetables or fruit with every meal.
Offer modest portion sizes. Large items, such as sandwiches and pizza, should be cut
in small portions.
Avoid serving fried food options.
Provide whole grain options when offering grain foods such as bread, pasta and side dishes.
Water is the best beverage choice. Carafes of water, rather than bottled water, is the green choice. If a sweetened beverage is offered, provide at least one non-calorie beverage.
Consider fruit in place of traditional desserts. When offered, desserts should be small servings.
Provide vegetarian or vegan options if requested by attendees.
Atrium Health has worked with our vendors to ensure that healthier options like unsweetened beverages, low-fat and low-sugar snacks are available in each machine. These items are usually indicated by a green check mark. When in doubt, here are some healthier options to look for:
Baked chips, Chex mix, pretzels and multi-grain snacks
Healthy snack bars that are high in fiber and protein and low in sugar
Dried or canned fruit
Dry roasted nuts
Trail mix
Low-fat popcorn
Water or other low/no-calorie beverages of your choice
---
Planning Meals on a Budget
Here are some tips for how you can eat healthy on a budget.


Plan Meals
Planning meals for the week ahead of time helps reduce last minute and convenience purchases like take out and fast food. Use your meal plan to create a weekly grocery list. This will help you stick to your budget and avoid impulse buys from end of aisle displays and the check-out line.
Shop Store Brands
Store brands are usually just as good as name brands at a fraction of the price.
Use Coupons and Shop for Special Deals
Clip coupons from weekly mailers, use store apps or go online to see what deals are available. For shelf stable and freezable items, consider purchasing extra at the lower price and storing it for later use.
Shop Seasonal and Local Produce
Fruits and vegetables that are in season usually cost less and purchasing directly from growers at a farmer's market can reduce the price even further.
Start a Garden
You can't get more local than your own backyard, easily grow staples like tomatoes, cucumbers, lettuce and fresh herbs. If you have limited space, consider a container garden using flowerpots.
Buy in Bulk
Bulk food items are usually lower in price because they avoid the cost of excess packaging and marketing.
---
Enjoy More Fruits and Vegetables
Aim to make half your plate fruits and vegetables. Remember to add a variety of colors for a range of nutrients. Recommendations from the Academy of Nutrition and Dietetics.
Blend fruits and vegetables into smoothies.
Stuff vegetables to wraps and sandwiches. Think of adding lettuce, spinach, tomato slices, cucumber rounds, roasted red peppers, avocado and more.
Include a piece of fruit with lunch, apples, oranges, pears, and dried fruit are easy to include in your lunch bag.
Try vegetables at breakfast. Mix into scrambled eggs or fill omelets with a variety of colored vegetables
Change things up! Try a new preparation technique instead of the same cooking method. Roast, sauté, steam, grill, or have them raw.
Top salads with fruits and additional vegetables. Try adding apples, pears, blueberries, mandarin oranges, strawberries, or dried berries to salads. Don't forget that beets, carrots, peppers, grape tomatoes, and avocado are great on top of salads.
Veggie dippers! Keep cut vegetables or a veggie try as a ready-to-eat snack option. Choose from cauliflower or broccoli florets, bell peppers, celery sticks, cucumbers, snap peas, carrots, and radishes.
Keep fresh fruits on the counter for an easy to grab snack-on-the-run.
Wake up to fruit. Add fruit to your morning oatmeal, cereal, waffle, or yogurt.
Stock your freezer with frozen vegetables to steam or stir-fry for a quick side dish.
---
Nutrition Tips
---
Additional Nutrition Resources