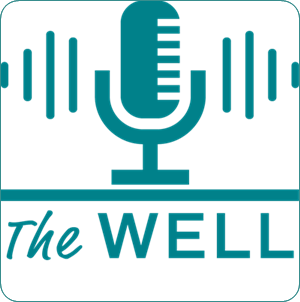 Tune in to LiveWELL's podcast series, connecting you in a fun new way to living WELL. Listen in anytime, anywhere with hosts, and fellow teammates, Jennifer Kees and Seth Christopher.
Check out all episodes and listen any time from any device by visiting YouTube.
We Want to Hear from You!
Your feedback and experiences are the heart of this podcast. The journey to good health is not a straight line for most. With life's curves and turns, each teammate has a unique journey to their healthiest and happiest self. Your input and experiences are an integral part of finding common ground, supporting and motivating each other. Thank you for choosing to share with The WELL.
Suggest a topic or share feedback by using our feedback form.
---
The Latest Episodes
Episode #43: Put a Bow on 2021
This is it teammates, the last episode of 2021! We're spending the month of December reviewing our goals; celebrating successes and taking note of opportunities. Now is a great time to review your goals and set new ones for 2022.
Episode #42: Wrapping up 2021
It's December and as we get ready to celebrate the holidays, now is a great time to look back on your year and take note of your financial goals. Cindy will walk us though the key items on the list we should be checking twice as we close out the year. Don't miss this episode so you can prepare your wallet for 2022.
Episode #41: Compassionate Giving
In December, Atrium Health celebrates Giving and the hosts of The WELL discuss compassionate giving. Listen as Jennifer and Seth link well-being and health to the power of volunteering and giving to others.
Episode #40: Winter is Coming
Winter is coming! Don't let the colder months derail your exercise program. On this episode we discuss how to keep your exercise program going even during the winter. The hosts discuss safety tips as well as ways to keep your workout fresh as the temps drop.
Episode #39: Holiday Budget
Do you have your holiday budget down yet? Even if you have, today Cindy walks us through setting up a budget for this year and even next year so the holidays are fun for everyone!
Interested in more podcasts? Check out the other episodes by visiting YouTube.
---
Meet The WELL Podcast Co-Hosts
Jennifer Kees, MPH, CHES, CES
Senior HR Consultant, Total Rewards, Atrium Health
Jennifer is busting the notion the journey to good health must be hard to reap the benefits. She believes finding what makes you feel great and ultimately living your healthiest, best life can be - dare we say it - fun!
With more than twenty years in fitness and health promotion, Jennifer strives to help shine light on health and well-being solutions that meet teammates where they are, working to find and provide a range of well-being resources and tools. No single approach is the solution. It's all about finding what makes you feel like your best self.
Jennifer holds a Masters of Health Promotion and Exercise Science, and a Master of Public Health from California University of Pennsylvania and Liberty University. Jennifer enjoys quality time with her family and is always on the lookout for a good mystery book or enlightening podcast. Recommendations are appreciated!
Seth Christopher, MS
Senior HR Consultant, Total Rewards, Atrium Health
Seth wants each tomorrow to be better than it's today. He believes through good health we have opportunities to fully experience the world. To be happy and look back with a feeling that you've lived and lived well.
As a first-generation high-school graduate, Seth discovered first-hand not all experiences are created equal. This grew into a passion for finding solutions to the real problems impacting health and well-being for diverse populations, and how we can make quality care more accessible for all. Today, Seth brings more than 10 years' experience working with worksite health management processes and analytics to create well-being solutions for all our teammates.
Seth holds a MS in Health and Exercise Science from Wake Forest University and a BA in Exercise and Sport Science from the University of North Carolina at Chapel Hill. He enjoys winning at home first, landing a solid dad joke, and bringing out the best in others.