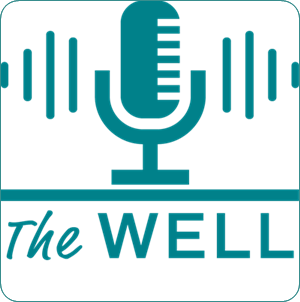 Tune in to LiveWELL's podcast series, connecting you in a fun new way to living WELL. Listen in anytime, anywhere with hosts, and fellow teammates, Jennifer Collings and Seth Christopher.


How to Listen
Stream or download an episode any time.
---
Episodes
Episode #37: Breast Health 2021
The WELL is celebrating Breast Cancer Awareness month and today we re-play our podcast from last year! Today is all about prevention, treatment and screenings!.Tune in today on The WELL.
----
Episode #36: Pause, Ponder and Prepare for Benefits in 2022
It's Open Enrollment season and there are many reasons for you, the teammate, to engage with this event. Cindy walks us through the financial reasons to review your benefit elections and update your choices. Don't forget to update those beneficiaries! Tune in today for more great tips for a successful open enrollment!  
----
Episode #35: Enterprise Open Enrollment for 2022 Benefits
It's Open Enrollment season! On today's podcast we have special guests Eve Cugini and Kristy Shugart and they walk us through this exciting time of year – Open Enrollment. This is a wonderful time to think about your unique needs for yourself and your family as you consider the impressive set of benefits offered to you. 
----
Episode #34: Real Life Retirement
Retirement is coming for all of us at some point and this can be a huge change to your regular routine. Cindy discusses ways to maximize your retirement through this real-world discussion with tips for time management, ways to minimize loneliness, and so much more. There are some key things you can do today to plan for a successful retirement.
----
Episode #33: Alternative Forms of Exercise
In today's episode we embrace different forms of exercise that can get your heart rate up and help keep your fitness routine fresh. We talk about everything from yoga to Pilates and even different forms of dance. Fitness is not just moving weights and walking. Tune in today and add these fun new ideas to your weekly routine.
----
Episode #32: HIIT Me LiveWELL One More Time
Today's show we talk about getting more bang for your buck with your exercise program. Seth and Jen answer the question on what to do if you only have a short time to exercise – add a HIIT workout to your week! We all have 4-20 minutes a day where we can add some activity and today, we tell you how to add this into your regular routine.
----
Episode #31: Secure Online for Peace of Mind
Have you thought about your online safety? Cindy brings real tangible tips to The WELL on ways teammates can keep their personal info and accounts safe. This discussion goes beyond super-secret passwords, tune in today and start keeping yourself safe online.
----
Episode #30: The Prevention Investment
Do you have a primary care doc or just a band aid and boo boos doc? Seth and Jennifer discuss the financial reasons to engage with a primary care provider. Putting off your health today could mean spending more bucks on your health in the future. This is not your normal prevention conversation. Check it out today!
----
Episode #29: Mid-year Check In 
We are just over halfway through the year and now is the perfect time to do a mid-year check in! Seth and Jen discuss how we check in on our goals we made at the beginning of the year or now is a great time to make some new goals. Check us out today for encouragement and tips on making the most of this year. 
----
Episode #28: Budgeting Your Way to Vacation
You're ready to vacay in 2021 and The WELL has suggestions and tips on how to maximize your time away without risking major debt. Plan your vacation budget today and let's start the relaxing.
----
Episode #27: Exercise in the Heat
It's July and it's time to be outside but we must be safe when exercising or recreating outside. Seth and Jen break down ways teammates can enjoy the weather while staying safe. 
----
Episode #26: Oh My Aching Head 
In this week's episode, Seth and Jennifer sit down with Dr. Tariq, with the Atrium Health Neurosciences Institute. Dr. Tariq provides a dynamic discussion about headaches, migraines and what Atrium Health is doing to assist those who suffer with this chronic condition. Check out this informative show today on The WELL!
----
Episode #25: Kids and Cash 
Today on our financial health series, Cindy breaks down talking to you kids about money. It is important to teach our kids how to manage money at a young age so they can avoid potential financial pitfalls. Tune in to hear all the fun tips Cindy has to break down this somewhat taboo topic. 
----
Episode #24: Put Your O2 Mask on First 
In today's episode we talk with Greg Hathaway with the Chaplin and Compassion Champion network. He tells us all about how Atrium Health care for teammate's mental health through the Compassion Champions and Code Lavender. 
----
Episode #23: Tips for Reducing Financial Stress 
The WELL has a new co-host! Listen in today to hear Cindy Patterson on ways to better deal with financial stress. Cindy will be joining The WELL once a month to discuss ways to get a hold of your finances and make your money work best for you! 
----
Episode #22: Love Yourself First
May is mental health month and LiveWELL's goal is to raise teammate awareness about self-care and access to support resources for mental health. On today's episode of The WELL, Seth and Jen dive into different ways self-care can work for you! Listen today and start off the month loving yourself first! 
----
Episode #21: A Penny Saved is a Penny Earned
In today's episode we have Cindy Patterson back again to give us tips on saving money. From emergency funds to maximizing your 401K, don't miss episode full of tangible tips to maximize your savings.
----
Episode #20: Own More than you Owe
As we launch into Financial Health Month, what a better way to start than to talk about budgeting. Cyndi Patterson sits down with Seth and Jen and talks passionately about how to start and manage your budget. This podcast show is so important and starts a conversation not many have. Tune in and learn how budgeting can improve bottom line as well as your overall health.
----
Episode #19: Food is medicine – Mobile Food Pharmacy
Today's topic we wrap up National Nutrition Month highlighting the Mobile Food Pharmacy. Our guest, Latoya Mallard talks to us about what Atrium Health is doing to combat food insecurity.
----
Episode #18: Debunking Common Diets
Today's show we have two special guests from the LiveWELL team to debunk common diet. Tune in to hear Tara Cox and Jill Ashburner discuss some of the most common diets and how you can choose between them.
----
Episode #17: Healthy Eating, Healthy Budget
Seth and Jen talk about ways you can have healthy choices without breaking the bank. Tune in for some fun tips to change up your meal planning, prepping, and preparation.
----
Episode #16: Love Your Heart
This week's show is all about Loving Your Heart! Our guest cardiologist, Dr. Koehler provides some fun, new ways you can keep you heart healthy!
--------
Episode #15: Live, Laugh, Love
It's February and The WELL is celebrating Heart Health Month! Did you know laughter is good for the heart? So is healthy eating and exercise! The hosts today talk about fun ways to love your heart. Guest: Rachel Field - Pineville Cardiac Rehab.
----
Episode #14: Physical Activity & You
Today's episode is more on Making 2021 Your Year! Hear from an Atrium Health Exercise Specialist about how to be successful in setting your goals and changing behavior to start an exercise program or change any behavior.
----
Episode #13: Make 2021 Your Year
It's a brand-new year and it's time to start something new! Today's podcast takes a different spin from traditional "New Year's Resolutions". Let's not make resolutions, let's make individual goals that we will actually keep! We also have a wonder guest, a LiveWELL Health Coach! Tune in for helpful tips to get your year started off right.
----
Episode #12: Finishing 2020 Strong
This is the last podcast of 2020! We made it to the end of the year! Listen to today's show for tips on how to end 2020 strong.
----
Episode #11: The Holiday Balancing Act
It's that time of year, the holiday season. Tune in today as we discuss ways to balance holiday fun and healthy habits for a successful end of 2020.
----
Episode #10: Easy Eating for Diabetes
Today, Jennifer Rawlings RD with Atrium joins The WELL to tell us all about how nutrition can prevent or manage diabetes. Give a listen and learn great advice for fun, healthy eating just in time for the holidays!
----
Episode #9: Diabetes Fight it!
Today on The WELL we talk about diabetes and ways you can prevent, delay, or treat Diabetes with exercise! Tune in today for great tips and tricks!
----
Episode #8: Open Enrollment 2020
Today's the day The WELL is tackling Open Enrollment! Tune in for great nuggets on why you should take time to check out the Atrium Health 2021 benefits and get enrolled! If that's not exciting enough, our guest today is Scott Laws! Tune in to hear all the great advice from our VP of Total Rewards!
----
Episode #7: What you should know about Breast Cancer
The WELL is celebrating Breast Cancer Awareness month! With our guest, Jill Ashburner, we will talk about screenings, socks, selfie's and more! Tune in today on The WELL!!
----
Episode #6: Protecting Our Planet
Today's on The WELL we have Jennifer Sellers talking all about the new sustainability project at Atrium Health. Tune in to this exciting podcast about how you can make a difference for our environment.
----
Episode #5: Tips and Tools To Manage Back to School Stress
Has virtual leaning gotten you down? Do you need tips to help your kids be active and manage stress? Today on The WELL we talk all about winning in this new virtual environment. Our guest teammate today is Eric Rogers who provides some fun ideas for getting kids moving while learning!
----
Episode #4: Men, This One's for You
Are you a man or do you have a man in your life you want to make sure they are healthy? Tune in to today's show on The WELL the LiveWELL's podcast. We will discuss ways men can elevate their health through physical activity, stress management and annual screenings.
----
Episode #3: Be your Best with Better Behaviors
On The WELL today we discuss healthy behaviors especially healthy nutrition and exercise. We have a special guest today; Tara Cox a LiveWELL dietitian who provides some valuable info on how to build a healthy diet.
----
Episode #2: Prevention is the Best Medicine
Today The WELL podcast is all about prevention! Tune in to hear what you can do to prevent chronic diseases. We have a special guest on our show today; Dr. Cosenza the medical director for the Atrium Health Onsite Health Clinics.
----
Episode #1: Sun Safety
The first episode of The WELL! Jen and Seth discuss how you can stay safe in the sun.
---
Meet The WELL Podcast Co-Hosts
Jennifer Collings, MPH, CHES, CES
Senior HR Consultant, Total Rewards, Atrium Health
Jennifer is busting the notion the journey to good health must be hard to reap the benefits. She believes finding what makes you feel great and ultimately living your healthiest, best life can be - dare we say it - fun!
With more than twenty years in fitness and health promotion, Jennifer strives to help shine light on health and well-being solutions that meet teammates where they are, working to find and provide a range of well-being resources and tools. No single approach is the solution. It's all about finding what makes you feel like your best self.
Jennifer holds a Masters of Health Promotion and Exercise Science, and a Master of Public Health from California University of Pennsylvania and Liberty University. Jennifer enjoys quality time with her family and is always on the lookout for a good mystery book or enlightening podcast. Recommendations are appreciated!
Seth Christopher, MS
Senior HR Consultant, Total Rewards, Atrium Health
Seth wants each tomorrow to be better than it's today. He believes through good health we have opportunities to fully experience the world. To be happy and look back with a feeling that you've lived and lived well.
As a first-generation high-school graduate, Seth discovered first-hand not all experiences are created equal. This grew into a passion for finding solutions to the real problems impacting health and well-being for diverse populations, and how we can make quality care more accessible for all. Today, Seth brings more than 10 years' experience working with worksite health management processes and analytics to create well-being solutions for all our teammates.
Seth holds a MS in Health and Exercise Science from Wake Forest University and a BA in Exercise and Sport Science from the University of North Carolina at Chapel Hill. He enjoys winning at home first, landing a solid dad joke, and bringing out the best in others.