For Atrium Health Teammates Enrolled or Accepted into Nursing School
The Career Development Center, Inside Up, RN Educational Assistance Program (formerly CNA to RN Scholarship) 2021 application window is now closed.
---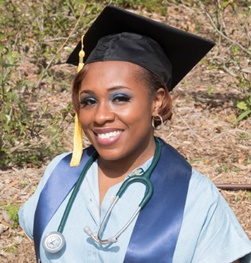 "I am honored and truly grateful to have been chosen for this program. Because of the support I received both financially and emotionally I was able to make one my dreams a reality. "
Kristy Green, BSN, RN, Teammate Health
---
Congratulations to the nine recent RN graduates who were RN Educational Assistance recipients:
Bethany McMullen, RN, Med Surg Pineville
Abigail Sobie, RN, Oncology, Carolinas Medical Center
Jasmine Artis, RN, Maternal Newborn, Carolinas Medical Center
Kristy Green, BSN, RN, Teammate Health
Lynn Wilson, RN, ICU, Mercy
Jordan Randolph, RN Emergency Department, Pineville
Mariah Duckett, RN, Cabarrus Family Medicine
Jennifer Uloma-Awuruonye, RN Med Surg, Pineville
What is the RN Educational Assistance Program?
The goal of this program is to (1) support internal advancement and improve financial well-being among teammates, particularly those living in opportunity areas within our communities, and (2) respond to organizational workforce needs.

The target audience for this program is Atrium Health teammates who are currently working towards becoming a Registered Nurse (RN).

All teammates who meet this criteria are eligible to apply:
Up to three years of up-front coverage of tuition and books for a nursing program leading to licensure as a Registered Nurse.
The annual scholarship amount will be up to $14,000 per student.
Participants who are full or part-time will be offered the flexibility to reduce worked hours in order to increase available time to meet academic requirements without a reduction in their current compensation and benefits
Upon RN licensure, continued employment at Atrium Health in an RN role for at least four consecutive years is expected. Participants will be eligible for a position in the New Graduate RN Residency Program, in one of the specialty tracks.
Career Coaching and Mentoring will be available to program participants
Ten teammates will be selected.
Watch this video to learn more about the Program.
Who is eligible to apply:
Current full-time, part-time, or PRN Atrium Health teammates who have been employed continuously at Atrium Health for at least one year at time of scholarship application
Teammates who are enrolled or fully accepted (unconditional acceptance) into in an approved nursing program, leading to licensure as a Registered Nurse
In good standing at Atrium Health, with no written disciplinary action within the last 12 months
An overall score of Meets or above on most recent annual Performance Review
Teammates with a gross income of $45,000/year or less
Teammates who live in any zip code may apply, however priority consideration will be given to applicants who have worked at Atrium Health for two or more years at time of scholarship application and are residents of opportunity area zip codes: 28205, 28206, 28208, 28212, 28216, and 28217
Endorsed by current leader to participate. A teammate application and Leader Endorsement are required (available June/July 2020). Applications will include a field to insert the leader's email address. An automated message will be sent to the leader to complete their endorsement. Applications will be considered complete once the application and leader endorsement are received by the deadline
The Career Development Center is looking forward to expanding programs to Atrium Health Navicent. We will continue to provide updates when we have new information.
How to Apply
The 2021 RN Educational Assistance Application deadline has passed. Applications will be accepted again in 2022.
Please direct questions to CareerDevelopment@AtriumHealth.org.