Atrium Health is proud to offer student placement programs for education and training with a rich environment for learning opportunities across the system.

On this page:


---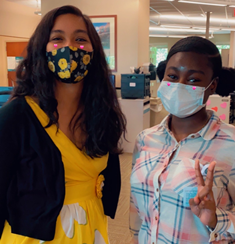 "This internship affected my future career goals in many ways. I've had meetings and spoken with physicians and HR's via Microsoft teams and it's done nothing but make me even more excited to pursue the career I hope to have in the future as a gynecologist."
-Ashley Adam, MYEP Intern, Rocky River High School
(and her leader, Kim Cornellier, Manager, Physician Connection Line)

---
Summer Internships (Non-Clinical)
Applications for the Atrium Health Summer Internship Program will be accepted February 2021.
The Summer Internship Program is intended to bring both college interns and high school students from the Mayor's Youth Employment Program (MYEP) to Atrium Health. Students must apply for MYEP through their school.
Interns will be selected by Workforce Development and hiring leaders.
Internships last approximately 10-12 weeks for non-clinical, full-time and part-time, paid opportunities. Internships will be expensed to the hiring department or Workforce Development.
Internships include:
Formalized structure, including SMART goals to be achieved by the end of the internship
Bi-weekly report of training and projects, to be completed by the intern
Attendance at Friday experiences, facilitated by Career Development, to gain further understanding of the System and soft skills training

Host an Intern

To host an intern in your department, please include the following in your email to Career Development:
Department name, location and full address
Name of hiring leader
Type of student (student's area of study) you would like as an intern
Send this information to: StudentPlacements@AtriumHealth.org


Shadowing Observation
Due to the pandemic, all shadowing and observation experiences have been suspended.

There is no immediate plan to re-open shadowing experiences for students at any level and these experiences remain at a very low system priority during our pandemic response. At this time, we are concentrating on providing experiences to those students that are in pursuit of academic credit at the collegiate level.
Allied Health Student Placement
Allied Health Student Placement Programs are work-based learning opportunities for student participants to develop practical skills that will enhance future healthcare careers and bridge the gap between formal education and practical work experience. This is also an opportunity for Atrium Health to participate in the educational process while receiving valuable work contributions from the student participants, as well as developing essential skills of our own leaders and teammates.

Allied Health Student Placement Programs consist of the following areas:
Radiology Technology (Rad Tech)
Medical Assistants
Phlebotomy
Exercise Science
Social Worker
Behavioral Health
Occupational Therapy
Physical Therapy
Speech Therapy
Laboratory
Pharmacy
Medical Education Student Placement
Medical Education Student Placement Programs are work-based learning opportunities for student participants to develop practical skills that will enhance future healthcare careers and bridge the gap between formal education and practical work experience.

This is also an opportunity for Atrium Health to participate in the educational process while receiving valuable work contributions from the student participants, as well as developing essential skills of our own leaders and teammates.

Medical Education Student Placement Programs consist of the following areas:
3rd Year Medical Students
4th Year Medical Students
Advanced Practice Provider Students
Army Personnel
GI Apprenticeship
International Visitors
PATCH Student Program
United Arab Emirates Fellowship
Nursing Student Placement
Nursing Student Placement Programs are work-based learning opportunities for student participants to develop practical skills that will enhance future healthcare careers and bridge the gap between formal education and practical work experience.

Nursing Student Placement Programs consist of the following areas:
Nurse Aide
Licensed Practical Nurse (LPN)
Pre-Licensure (ADN, BSN)
Graduate Nursing (MSN and DNP)

Requesting Student Placement

To be considered for a clinical rotation, there must be an active Clinical Education Affiliation Agreement (CEAA) on file between Atrium Health and your educational institution. If you are unsure if your school has a current CEAA, please contact studentplacements@atriumhealth.org


If you are a clinical coordinator for a nursing program and would like to request rotations or preceptors for your students, please contact Phyllis Justice, AVP Enterprise Nursing (Phyllis.justice@atriumhealth.org) or Julie Heim, Administrative Assistant to Phyllis Justice (Julie.heim@atriumhealth.org)