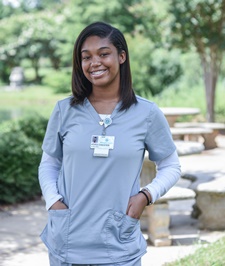 On the path to becoming a Nurse Practitioner.
"Rise to Success is such an important program because it allows me to achieve my dreams in the healthcare field without the financial hardships of college. This program has allowed me to make connections with other participants, who are now like family. I am able to grow and learn in a field I have always wanted to work with the bonus of earning money and avoiding student loan debt"
- Atira Chester, Pursuing Associates Degree in Nursing
---
The Rise to Success Initiative is a program that enables high school graduates from Charlotte-Mecklenburg Schools (CMS) to earn a Certified Nurse Aide (CNA) certificate and an Associates degree in a healthcare-related discipline from Central Piedmont Community College (CPCC). Atrium Health will pay for participants' tuition, books and related fees. Participants are encouraged to earn their bachelor's degree upon program completion.
Watch the Rise to Success Video
Learn about other Atrium Health programs for high school students
Participants will have an opportunity to obtain a part-time position at Atrium Health and are expected to:
Successfully compete the Nurse Aide 1 course over the summer and pass the Nurse Aide 1 Certification Exam (tuition, stipend, and exam fee paid by Atrium Health)
Enroll at CPCC beginning fall semester 2021 with at least nine college credit hours per semester (tuition, books and fees paid by Atrium Health)
Work for Atrium Health for the duration of their college career and an additional year after completion of their degree
Participating individuals will have access to a Career Development Center coach who will monitor their academic and work performance throughout the program.
Eligibility Criteria and Requirements
Graduated with a high school diploma and 18 years of age as of July 1

Resident of Mecklenburg County

Minimum 3.00 GPA (unweighted)

Good high school attendance record

Must complete and submit all required application materials, including essay questions
How to Apply
Applications will be accepted February 15 – March 15, 2021.
or

Frequently Asked Questions
Are you accepting Rise to Success high school graduates from non-CMS school districts?
At this time, we are accepting high school graduates from CMS schools only.
What type of positions are available to Rise to Success participants?
Participants will be eligible for positions in Outreach Services, Physician Connection Line, Certified Nurse Aide (if certified) positions and other entry level positions.
For more information, see all Career Development Center Frequently Asked Questions.