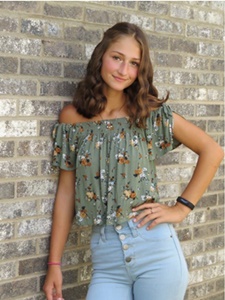 "The Rise to Success program is a big help to young people trying to get a job in a competitive workplace."
Hannah Eidsness, Transfer Center Specialist, Physician Connection Line
I love my job as a Transfer Center Specialist and especially the teammates who have become a family to me. I found my place in a large healthcare system. The Rise to Success program has not only helped me pay for my degree, but has helped me gain on-the job experience. This experience will prepare me for my career goals to become a nurse or physician assistant.
---
The Rise to Success Initiative is a program that enables Charlotte-Mecklenburg Schools (CMS) high school graduates to earn a Certified Nurse Aide Certificate (CNA) during the summer and in the fall, enroll in an Associate's degree program in a healthcare related discipline from one of three participating community colleges with Atrium Health's support. Participating community colleges include Central Piedmont, Rowan-Cabarrus and Gaston College. Participants are encouraged to earn their Bachelor's degree upon program completion.
Selected participants will have an opportunity to obtain a part-time position at Atrium Health that requires at least 24 hours per work week, provides benefits and will include access to the Atrium Health Educational Assistance program.
If an applicant is selected to participate, Atrium Health will provide up-front, financial coverage for the CNA certification course, a summer stipend and the cost of tuition and books leading to an Associate's degree to one of three regional community colleges that includes Central Piedmont Community College, Rowan Cabarrus Community College and Gaston College.

Participants will be expected to continue employment with Atrium Health an additional year after completion of their degree.

Career coaching will be available to program participants.
Eligibility Criteria and Requirements
Graduated with a high school diploma and 18 years of age prior to start date of the program
Resident of Mecklenburg County
Demonstrated high aptitude in the sciences
Minimum 3.00 GPA (high school or college)
Good high school attendance record

Must complete and submit all program materials, including essay questions

Earn Certified Nurse Aide (CNA) certificate during the summer. Tuition and stipend paid by Atrium Health while earning CNA certificate. The CNA program is an 8-week course held at Central Piedmont Community College, Central Campus

Enrolled or plan to enroll (with a minimum of nine credit hours) at one of three participating community colleges by Fall 2020: Central Piedmont Community College, Rowan-Cabarrus Community College or Gaston College
How to Apply
The Rise to Success application for spring 2020 is now closed.
Frequently Asked Questions
Are you accepting Rise to Success high school graduates from non-CMS school districts?
At this time, we are accepting high school graduates from CMS schools only.
What type of positions are available to Rise to Success participants?
Participants will be eligible for positions in Outreach Services, Physician Connection Line, Certified Nurse Aide (if certified) positions and other entry level positions.
For more information, see all Career Development Center Frequently Asked Questions.