Educational Assistance
Take the Next Step in Your Education
Atrium Health Career Development programs offer an Inside Up approach to teammate development. Teammates are encouraged to use tuition and professional development reimbursement for continuous learning. When teammates develop and apply new skills, they support the vision of Atrium Health to become the first and best choice for care.
Review the updated Atrium Health Educational Assistance Policy.
What is Tuition and Professional Development Course Reimbursement
Provides teammates with financial reimbursement for approved academic courses and professional development course expenses. We are excited to announce a new partnership with Bright Horizons EdAssist.
Updated benefits include:
Access the EdAssist Portal
Use your Atrium Health username and password to log in.
EdAssist Support Is Available
By Phone: 833.211.2710 Monday through Friday, 8am-8pm
Live Chat on your Ed Assist Portal: Monday through Friday, 9am-4pm
Free, Expert Academic and Finance Guidance: Get a customized education plan, assistance with the admissions process, and tips on how to pay for your education
Exclusive Discounts: Save on tuition, application fees, and more at 220+ accredited schools
NEW! Click to find out if your school offers discounted rates: https://clients.brighthorizons.com/atriumhealth/matrix
An Automated System: Apply online and receive status alerts via email notifications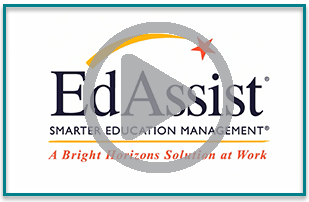 Take a few minutes to watch this video outlining the benefits of our new EdAssist Portal.
Who is Eligible to Apply
Full-time and part-time Teammates with 40 or more standard hours per pay period and who have also completed their 90-day orientation period.
Teammates are eligible for different amounts per year based on their length of service with Atrium Health and their hours worked. See table below.
Some teammates are provided alternative education benefits and are not eligible for assistance (i.e. Medical Residents, Physicians, Nurse Practitioners, Physician Assistants, and Certified Registered Nurse Anesthetists).
Atrium Health
Length of Service

Full-Time
(72 – 80+ hours/pay period)

Part-Time
(60 – 71 hours/pay period)
Part-Time
(40 – 59 hours/pay period)

Less than 3 years
$1,000
($2,000 critical need)

$800
($1,600 critical need)

$600
($1,200 critical need)
3 years or more
$1,500
($3,000 critical need)

$1,200
($2,400 critical need)

$900
($1,800 critical need)

Teammates may enjoy, through this benefit, some paid expenses related to taking a course. This may include tuition, required textbooks, course registration, and lab fees.
Teammates will not be reimbursed for certain expenses. This may include any tools, supplies, equipment that may be kept after course completion (except textbooks), meals, lodging, transportation, courses involving sports, games, or hobbies (unless this education is part of a degree program), license renewal, testing fees, membership, and similar fees.
A detailed list can be found on the Tuition Reimbursement Non-Covered Fees
Apply for Tuition Reimbursement
Apply for Tuition Reimbursement through a two-step process of 1) Preapproval and 2) Reimbursement:
1. How to Receive Preapproval
Submit a preapproval request as early as possible or at least 10 days before the educational course is scheduled to begin.
Collect needed information to complete the online form, such as:

Course Information/Program Name
Begin/End Dates
Course Number
Institution/Location
Organization and Location
Projected Costs

Review the Confirmation page and Submit the Application.
The Tuition Reimbursement Team reviews the application.
Teammates will receive next steps via email and see an update in their EdAssist Portal.
2. How to Receive Reimbursement
Once your course is successfully completed, and within 60 days of completing the course you will submit the following documents to your online EdAssist Portal

Itemized receipt with proof of payment (student payment, loans, etc.)
For college course completion, a copy of course transcripts:

For undergraduate courses, with grade of C or better
For graduate courses, with grade of A or B

For professional development course completion, certificate of completion/letter of attendance
Please allow a minimum of 30 business days from the submission date to receive your direct deposit reimbursement.
Frequently Asked Questions
Tuition and Professional Development frequently asked questions can be found on the EdAssist Portal.