Educational Assistance
Take the Next Step in Your Education
Atrium Health Career Development programs offer an Inside Up approach to teammate development. Teammates are encouraged to use tuition and professional development reimbursement for continuous learning. When teammates develop and apply new skills, they support the vision of Atrium Health to become the first and best choice for care.
New! Atrium Health Navicent and Atrium Health Greater Charlotte Educational Assistance benefits are now aligned.
On This Page:
Access the EdAssist Portal
Greater Charlotte & Navicent
Log in with your network username and password.
---
Atrium Health Wake Forest Baptist
Log in to Wake Forest Baptist EdAssist
Access from the Wake Forest Intranet.
EdAssist Support Is Available
By Phone: 833.211.2710
Monday through Friday, 8am-8pm
---
Live Chat on EdAssist Portal:
Monday through Friday, 9am-4pm
---
What is Education Assistance?
Provides teammates with financial reimbursement for approved academic and continuing education course expenses. We are excited to partner with Bright Horizons EdAssist to improve educational assistance benefits to all teammates, including PRN teammates. This benefit may be used for job-related education (for any Atrium Health job). This could include development for a specific skill, preparing for or maintaining a license or certification, or taking educational classes.
Updated benefits include:
Free, Expert Academic and Finance Guidance: Get a customized education plan, assistance with the admissions process, and tips on how to pay for your education with a Bright Horizons Coach. Teammates may schedule an appointment with a coach within the EdAssist Portal
An Automated System: Apply online and receive status alerts via email notifications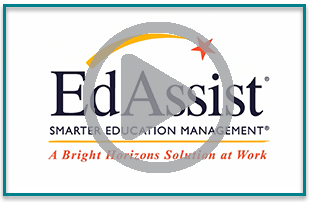 Take a few minutes to watch this video outlining the benefits of the EdAssist Portal.
Who is Eligible to Apply
Full-time and part-time Teammates and new teammates who have also completed their 90-day orientation period.
PRN Teammates are eligible to apply for Continuing Education dollars only
Some teammates are provided alternative education benefits and are not eligible for assistance (i.e. Medical Residents, Physicians, Nurse Practitioners, Physician Assistants, and Certified Registered Nurse Anesthetists).
More details about program eligibility by region can be found on the Educational Assistance Eligibility page.
Educational Assistance Benefit Policies
Greater Charlotte and Navicent
Program highlights include:
After 90 days of employment, full- and part-time teammates are eligible for up to $3,000 for degree seeking courses; and up to $1,500 for continuing education courses (non-degree courses)
Applications must be submitted within 30 days of the course start date. Supporting documentation must be submitted within 60 days of the course end date.
All courses of study are eligible for the maximum annual amount.
PRN Teammates are eligible for reimbursement up to $1,500/per year in Non-Degree Continuing Education courses. This benefit does not include degree-seeking courses for PRN teammates.
PRN teammates should submit a new application request 90 days in advance of their non-degree program start date. Select New Application in the EdAssist Portal to get started.
Degree and Academic Credit courses must be from a regionally accredited institution. Visit https://ope.ed.gov/accreditation to learn if a school you are considering is regionally accredited.
After the most recent Degree/Academic credit reimbursement there will be a one-year work requirement

Important:

Atrium Health allows clinical experiences, shadowing and interns from a select group of schools that are included in the Atrium Health Approved Clinical Education Affiliation Agreement List (CEAA List). If your school is not listed, you may not be eligible for clinical experiences at Atrium Health facilities. Teammates are strongly encouraged to select academic programming from an institution that is already on this list.
Degrees and Academic Credit Policy Benefits
Education Type

Maximum Benefit Amount

Eligibility

Certificates and Individual Courses
$1,500 per year
Full-time and part-time teammates who have completed the 90-day orientation period


College Degree*: Clinical & Non-Clinical Associate, Bachelor's, Master's, Doctorate, Ph.D.
*includes one-year work requirement

$3,000 per year
Continuing Education Benefits
| | | |
| --- | --- | --- |
| Education Type | Maximum Benefit Amount | Eligibility |
| Continuing Education Units & Certifications | $1,500 per year | Full-time, part-time and PRN teammates who have completed the 90-day orientation period |
Prepaid Tuition Assistance*
Education Type

Maximum Benefit Amount

Eligibility

Prepaid Tuition Assistance Program
Clinical & Non-Clinical Degrees, Certificates, Individual Courses. *includes one-year work requirement
$3,000 per year

Full-time & part-time teammates who have completed the 90-day orientation period
Earn $45,000 or less
Received an overall score of meets or above on the most recent annual Performance Review
*Prepaid Tuition Assistance Program
Many teammates require prepaid financial support to further their educational and career goals. Prepaid Tuition Assistance program aims to increase access and completion of a college education for all. This program provides up to $3,000 in prepaid college tuition, books and fees to teammates who meet the eligibility criteria.
This program cannot be combined with the Degree/Academic Policy Reimbursement program.
Degree programs must support a logical step on the career path of the teammate within the healthcare profession
PRN teammates are not eligible for Prepaid Tuition Assistance
Certificate programs include a bundled number of courses that result in a certificate of completion and demonstration of mastery in a particular area (can be both academic and professional); must be obtained from a regionally accredited institution
What is covered?
Please review the sections for Educational Assistance Policy to learn what is covered for the Degree and Non-Degree/CEU programs.
How to Apply
For Degree and Non-Degree/CEU programs, visit the "Using Your Benefits" section on the EdAssist Portal: Atrium Tradition/Non-Degree Job Aid
For Prepaid programs (RN Educational Assistance, Rise to Success, Education that Works, Prepaid Tuition Assistance), visit the "Using Your Benefits" section on the EdAssist Portal: Atrium Direct Bill Job Aid
Education Webinars for All Teammates
General Information Sessions
Available on demand, but you must register to view
Career Advancement Webinars
Available on demand, but you must register to view
Finding the Best Program for You
Available on demand, but you must register to view
Other Learning Opportunities
Navicent Teammates: CareLearning catalog: provides various optional courses. Go to CareLearning, then click Student Login.

Your Student ID is the first 4 letters of your last name plus the last 4 digits of your social security number
Your Password is your entire first name (lowercase)
Scroll to the bottom left of your classroom and Select Course Catalog
Browse the category topics, select the desired course and complete the self-registration instructions



Greater Charlotte Teammates: Visit CORE Connect, Learning for a Catalog of classes for all teammates


Wake Forest Baptist Teammates: Log in to the Wake Forest Education site
Public Service Loan Forgiveness
The PSLF (Public Service Loan Forgiveness) Program, encourages employment in high-need public service fields by forgiving remaining student loan balances after 10 years of repayments while working in qualified jobs in government agencies (federal, state, military, local, or tribal) and certain non-profit organizations, including hospitals. PSLF provides debt relief to teachers, nurses and other public service professionals.

PSLF erases or forgives the remaining balance on federal direct loans after a borrower has made 120 qualifying monthly payments while working full time (or a minimum of 30 hours per week) for a qualifying employer. Atrium Health is a qualified employer. Private Student Loans do not qualify for PSLF.

Most of the PSLF qualifying payment rules have been suspended through Monday, October 31, 2022. Under this temporary waiver, you may get credit for payments you've made on loans that would not normally qualify for PSLF. These payments will count even if you didn't pay the full amount or on-time. Only payments made after October, 1, 2007, can count as qualifying payments.

Because you have to make 120 qualifying monthly payments, it will take at least 10 years before you can qualify for PSLF.

Important: You must be working for a qualifying employer at the time you submit the form for forgiveness and at the time the remaining balance on your loan is forgiven. You may also need to get employer verification from a previous employer if you made student loan payments during that time period, too.

Whether you have made 120 qualifying payments or are working toward PSLF and are completing your employer certification, you should complete and submit the (PSLF) & Temporary Expanded PSLF (TEPSLF) Certification & Application (PSLF form).
PSLF Form Process
After you submit a PSLF Form, if you don't yet have 120 qualifying payments, your loans will transfer to the PSLF servicer. After the PSLF servicer determines how many qualifying payments you made during the employment period on your form, you'll receive a letter telling you the number of qualifying payments you have made.

If the limited PSLF waiver period makes you immediately eligible for forgiveness, your loan may not transfer to the PSLF servicer.

The number of qualifying payments you have made will only be updated whenever you submit another PSLF form that documents a new period of qualifying employment.

You can find out how many qualifying payments you've made by logging in to your account with the PSLF servicer and viewing your loan details or by looking on your most recent billing statement. You can also see the number of qualifying payments for each of your loans by logging into your StudentAid.gov account, selecting My Aid, View Loans, then View Loan Details.
Public Service Loan Forgiveness FAQ's
What is the PSLF Limited Waiver?
The PSLF Limited Waiver, enacted in October 2021, is a temporary program that allows borrowers to bypass the program's strict rules and receive credit for all types of payments made toward federal student loans. Various changes have been made to the original program to expand eligibility around loan types, payments made and employment status.

The deadline for the PSFL Limited Waiver is fast-approaching on Monday, October 31, 2022. It's important for teammates to understand the newest changes and how to obtain and maximize loan forgiveness amounts.


Who is eligible for PSLF?
To qualify for PSLF, you must:
a. Be employed by a U.S. federal, state, local or tribal government or not-for-profit organization (federal service includes U.S. military service)
b. Work full-time
c. Have Direct Loans (or consolidate other federal student loans into a Direct Loan)
d. Repay your loans under an income-driven repayment plan*; and
e. Make 120 qualifying payments
*This provision will be waived through Monday, October 31, 2022, as part of the limited PSLF waiver.

The qualifying repayment plan rules have been temporarily suspended as a result of the limited PSLF waiver. You may receive credit toward PSLF, provided you had qualifying employment, if you made payments on any type of non-consolidation Direct Loan on any repayment plan prior to October, 6, 2021. These loan types include:
Direct Subsidized Loans
Direct Unsubsidized Loans, and
Graduate PLUS Loans made to students
For consolidation loans, borrowers may get credit for payments made on the underlying loans after Oct. 1, 2007
What loans are eligible?
Any loan received under the William D. Ford Federal Direct Loan (Direct Loan) Program qualifies for PSLF. Be sure to consolidate your loans if needed. In the past, loans from certain federal student programs, such as Federal Family Education Loan (FFEL) Program and the Federal Perkins Loan (Perkins Loan) Program did not qualify. However, they may become eligible if you consolidate them into a Direct Consolidation Loan.

Student loans from private lenders do not qualify for PSLF.

Remember! Until Monday, October 31, 2022, borrowers may receive credit for payments that previously did not qualify for PSLF or TEPSLF (Temporary Expanded Public Service Loan Forgiveness).

If you consolidate these loans into a Direct Loan before Monday, October 31, 2022, you may be able to receive qualifying credit for payments made on those loans through the limited PSLF waiver.


What is a qualifying payment?
A qualifying monthly payment is a payment that you make:
After October 1, 2007
Under a qualifying repayment plan
For the full amount due as shown on your bill
No later than 15 days after your due date; and
While you are employed full-time by a qualifying employer

What resources are available to help me?
PSLF Help Tool will:
Help you understand more about PSLF, TEPSLF, and the limited PSLF waiver and what you need to do to participate and possibly have your loans forgiven
Help you assess whether your employer qualifies for PSLF
Explain other actions you should or must take if you want to receive PSLF or TEPSLF.
NEW! Student Loan Coaching with Bright Horizons
There is no doubt that the PSLF program is complex set of regulations and requirements that most people have a tough time following. That's why we've partnered with Bright Horizons EdAssist student loan coaches to help our teammates understand the complexities of PSLF and the current PSLF Limited Waiver. They provide one-on-one support and guide teammates through the qualification criteria, estimate savings, and ensure the necessary steps are taken and paperwork complete to stay on track for loan forgiveness.

We are excited to offer our teammates with this new opportunity to work directly with Bright Horizons coaches to help determine their eligibility for a federal loan forgiveness program and provide coaching through each step of the program. Log in to the EdAssist portal or call EdAssist at 833-211-2710. Teammates can also ask about refinancing, how to pay down their balances faster, how to consolidate their loans and more.

Student Loan Coaches can support you by:
Determine eligibility under the various programs: standard PSLF, PSLF Limited Waiver, or TEPSLF
Understand time constraints of the PSLF Limited Waiver and how to qualify before it's set to expire in October 2022
Understand payment and documentation requirements to obtain forgiveness
Learn about timelines and pitfalls that could jeopardize eligibility for forgiveness
Complete consolidation or payment structuring
Create a repayment strategy that includes PSLF and a plan for private student loans not eligible for PSLF
We encourage you to take advantage of this opportunity, as the PSLF application must be submitted by October 31, 2022 to be considered. With the amount of steps required, it is important to start the process sooner rather than later.
Register for the PSLF On Demand Webinar
Note: This webinar is intended specifically for student loan information pertaining to the PSLF program. For general student loan coaching, please follow the below steps to schedule an academic coaching session.
How to Schedule a General Student Loan Coaching Session
Before you get started, you will first need to identify which type of loans you have as well as how much student loan debt you currently hold. This will help you through step #4 and # 5 of scheduling an appointment.
Log into the Bright Horizon's EdAssist portal, and select "Student Loan Support"
At the top of the page for Student Loan Support, you have the option to "Schedule Free Coaching," "Message an Expert" or "Browse Helpful Content."
Clicking on "Schedule Free Coaching." It will then prompt you to answer a few questions to schedule a session.
Please save the date and time of your appointment in your calendar.
Frequently Asked Questions
Tuition and Continuing Education frequently asked questions can be found on the EdAssist Portal: