Atrium Health appreciates veterans and military members and our shared commitment to service. We recognize military service members and their spouses are positioned to provide innovative leadership and professional expertise that contributes to our mission that impacts our patients, their families and the communities we serve. We are proud to have a comprehensive military and veteran engagement strategy at Atrium Health.
Serving, Supporting and Celebrating
This Veterans Day season, we celebrate veterans and military service members in a number of ways. We are thankful for their service and dedication.
Virtual Veterans Day Celebration
The 2021 Veterans Day Celebration took place virtually this year, featuring a variety of speakers and special presentations. All Atrium Health military members, veterans and supporters across the enterprise can watch the recording of the event below at any time.
Other ways to get involved:
---
Cards for the Troops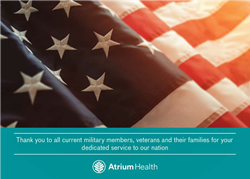 Those serving in the United States Military have given up great personal freedoms to help protect our country. Atrium Health recognizes the sacrifice of our nation's service members, and since 2015, we have sent more than 285,000hand-written cards to military service members all over the world. Anyone can participate in our Cards for the Troops Program. It is an easy-to-do service project for teams, and makes a big impact on the service members who receive the cards. For more information, please see the Cards for the Troops Instructions.
---
Thank Them for Their Service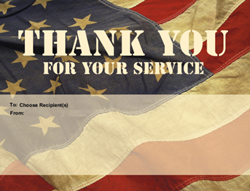 Saying 'thank you' can have a big impact on veterans and military service members. The Recognition & Rewards Platform offers several eCards to choose from to show your gratitude for a veteran's sacrifices. Send an eCard by selecting your work location: Greater Charlotte Region teammates or Atrium Health Navicent teammates.
---
One Team – One Mission System Resource Group
The Veteran & Military System Resource Group (SRG) at Atrium Health is a group of veteran and active-duty military teammates, their families & allies. It is designed to support military-affiliated teammates, and promote the unique characteristics of those who are serving, have served, or have a loved one who has served. To learn more about One Team – One Mission, please visit the System Resource Groups page.
---
Awards
Atrium Health has an award-winning veteran & military strategy. We are proud of our service members, and value the unique experience and dedication to team they bring to the table. We have implemented best practices and initiatives that have earned us several national awards, several of which are given out by the U.S. Department of Defense.
Top 10 Military Friendly Employer, 2019

Atrium Health has been recognized as the #1 Military Friendly Employer in the U.S. for our commitment and support of active duty and military veteran teammates (Non-profit/Government category).

Additional recognition: Military Friendly Employer, 2016, 2017

Military Friendly Spouse Employer, 2016 & 2017

Atrium Health was recognized with this award for our commitment and support of active duty and military veteran spouses.

Numerous Patriot Awards

Presented by the Employer Support of the Guard and Reserve, this individual award has been presented numerous times throughout the system. On October 8, 2020, U.S. Army Reserve Lieutenant Colonel Gregory Duggan, CRNA, presented a Patriot Award to his leader, Tammie Stahl, Director of Anesthesia Services, for her support during Duggan's deployment with the 7459th Medical Backfill Battalion.

Freedom Award, 2016

This is the highest recognition given to employers by the U.S. Government. More than 2,400 employers were nominated for this award. Out of that number, we were one of 15 in the nation to be recognized with this high honor. In the 20 years since this program was initiated, only 200 awards have been presented.

Pro Patria Award, 2016

In North Carolina, this is the highest award presented by Employer Support of the Guard & Reserve. There are only 3 winners in North Carolina each year. We won the award in the non-profit/government category.

Above & Beyond Award, 2016

Presented by NC Employer Support of the Guard & Reserve, this award is given to employers who go "above and beyond" in supporting active duty and veteran employees.

Top 25 U.S. Employee Resource Group, 2016

Award given by PRISM International for the One Team – One Mission System Resource Group.

Numerous Spouse Patriot Awards

Presented by the Employer Support of the Guard and Reserve, this individual award was most recently presented to Peggy Harris, Assistant Vice President of Diversity & Inclusion, by Aaron Harper, for providing schedule flexibility in support of Aaron's wife, Colonel Michele Harper, as she performed her duties with the North Carolina Army National Guard.