To meet teammates where they are, improve quality of interactions, and help grow their careers and well-being, we offer many diversity-related education resources. Find one that interests you and sign up today.
Lifting Voices FOR ALL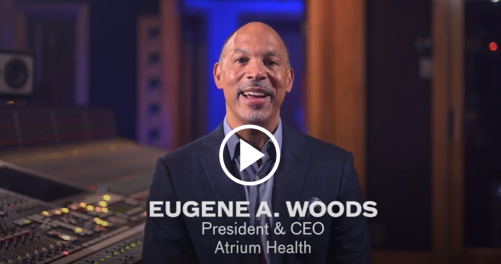 'For all' – two simple words that mean so much. It's a purpose that has never been more critical to creating and promoting spaces where men and women can equally grow and thrive together. For Gene Woods, our President and CEO, 'for all' is more than just part of his organization's mission statement, it's his personal mission as well. In this video, Gene draws upon various female voices through personal testimonies about how Atrium Health's 'for all' approach has cultivated a diverse and inclusive environment. Speaking to the key takeaways of Gene's message include Atrium Health's own:
Carol Lovin, Executive Vice President, Chief Integration Officer and System Chief of Staff
Kinneil Coltman, Senior Vice President, Chief Community & External Affairs Officer
Jakki Opollo, Vice President, Nursing Talent Acquisition & Strategy
Dr. Catherine Passaretti, Director, Infection Prevention
Gabrielle Odom, Administrative Fellow
Asha Rodriguez, Vice President, Facility Executive, Atrium Health Cabarrus
Diversity Certificate Program
The Diversity Certificate Program is an award-winning program that includes coursework in cultural competence, stereotypes, generational diversity, inclusive leadership, unconscious bias and more. This six-week Program incorporates instructor-led and experiential learning – and is open to both teammates and leaders. Applications are accepted three times annually.
Atrium Health has been awarded with the Gold Award for Excellence in Workforce Management by the Brandon Hall Group, for its efforts in developing and implementing the Diversity Certificate Program.
Diversity Symposium
The Diversity Symposium is the largest and most prominent annual learning forum of its kind within the Southeast United States. Held annually, the Diversity Symposium brings well-known speakers, such as Bennet Omalu (the physician that inspired the movie Concussion), Mike "Coach K" Krzyzewski, and Maya Angelou. This learning forum helps support Atrium Health's mission to improve health, elevate hope and advance healing – FOR ALL.
First Responders Series
First Responders Series provides a platform to discuss timely diversity issues that threaten to disrupt or jeopardize the trust and emotional health of our community and our workforce. It is our hope that this First Responders Series will generate and sustain a sense of urgency, social commitment, awareness, personal accountability, and the continued desire to make a difference in the lives of others.
Leaders Speakers Series
Leaders Speakers Series is a series of moderated discussions that provide an opportunity for leaders to share their personal diversity experiences and stories, as well as their thoughts on topical diversity-related issues. Teammates get the chance to learn firsthand the impact of diversity on some of our most respected executives and an opportunity to listen to similar viewpoints, uncover new perspectives, reassess personal opinions and develop new discussions on diversity.
MLK Day of Service
MLK Day of Service provides an opportunity for teammates to honor Dr. Martin Luther King, Jr.'s work by volunteering with a variety of charitable activities – from the "Share the Warmth" drive for new or gently used warm clothing for kids and adults, to Classroom Central, where teachers stock up on needed school supplies donated by the community. These opportunities are available to all Atrium Health teammates by signing in to Atrium Health Serves.