You or your team have several virtual options to help our communities in need. Pick one or more organization to support:
Check back periodically as more organizations are added and as in person opportunities become available, we'll post here.
---
Healthcare Heroes Cards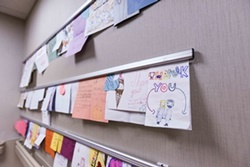 Our frontline teammates continue to take great care of our communities through the COVID-19 pandemic, while also undergoing many personal sacrifices – they are truly our Healthcare Heroes.

The Healthcare Heroes Cards campaign is for teammates and community members to send words of encouragement and gratitude to our Healthcare Heroes. Atrium Health will collect cards throughout the year for any occasion or just to say thanks to those working hard to keep our communities safe.

Encourage your family, friends, neighbors, social networks or community groups to help out. Our Healthcare Heroes want to hear from you – let's make sure they feel the love.

Mail all Greater Charlotte Healthcare Heroes Cards to the address below:

Atrium Health
Attn: Healthcare Heroes Cards
PO Box 32861
Charlotte, NC 28232

To reach Atrium Health Cleveland teammates, mail your Healthcare Heroes Cards to the address below:

HealthCare Foundation of Cleveland County
Attn: HealthCare Heroes Cards
P.O. Box 550
Shelby, NC 28151

For more information on how to help, visit https://atriumhealth.org/about-us/coronavirus/thank-you/
---
Thank You Cards for The Troops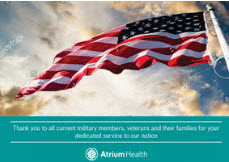 Those serving in the United States Military have given up great personal freedoms to help protect our country. Atrium Health recognizes the sacrifice of our nation's service members, and since 2015, we have sent more than 285,000hand-written cards to military service members all over the world. Anyone can participate in our Cards for the Troops Program. It is an easy-to-do service project for teams and makes a big impact on the service members who receive the cards.

For more information, please see the Cards the Troops Instructions.
---
Classroom Central
Help equip students to overcome pandemic learning loss.
Flashcards

Your group creates flashcards using Classroom Central's templates or you can be creative and create your own flashcards. Once completed, flashcards can be dropped off at Classroom Central in Greater Charlotte during regular donation hours (Monday-Thursday from 8 a.m. to Noon). Classroom Central distributes the flashcards to teachers and students through their Free Store program.
Pencil Pouches
The supplies for the pencil pouches include pouch, eraser, pencil and pen. There is a website that the supplies can be ordered from; and the cost per filled pouch is $.86.
Contact
For more information, contact Risa Brandon at 704-377-1740 x 421 or Risa@ClassroomCentral.org
**Please note: All project supplies must be paid for from your departmental budget.
---
Promising Pages
Promising Pages collects new and donated books and distributes them to student and organizations with the goal of eliminating the book desert and providing a free resource to those that need it most. Here are some ways you or your team can help.
Bookworm Letters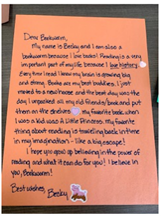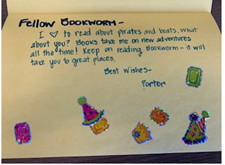 Short, creative notes of encouragement designed to get our bookworms excited and motivated to read, especially at home. This project is an opportunity for volunteers to really work freely and tap into their creative sides. Typically, these letters are written on construction paper with markers, and they're decorated with stickers and drawings.
Bookworm Buddies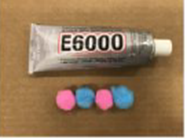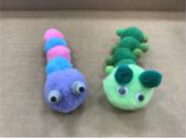 These little creations were designed with the idea that every student we serve should have a buddy to read with at home. Not every child has a parent, sibling or pet to read with at home, but it is highly critical that students learning to read practice at home. That's where these bookworm buddies come into place. These little bookworms are made with pompoms and google eyes and sit on the shoulder of our students as they practice reading out loud. Really easy to make and super fun!
Teacher Appreciation Notes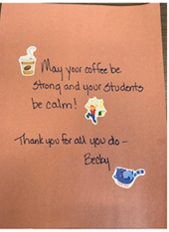 Short, creative notes of encouragement to our hardworking teachers who serve throughout the Charlotte area book desert. Teacher Appreciation letters are a special way our volunteers encourage our teachers and thanks them for their commitment to our children! Typically, these letters are written on construction paper with markers and they're decorated with stickers and drawings, as well.
Bookmarks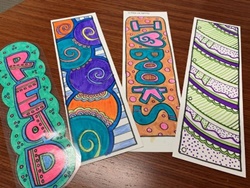 Bookmarks are a big deal for kids. It makes the books they receive seem extra special. Please tap into your artistic ability to COLOR a bookmark for a child in need. We have card stock bookmarks available (in limited supply) and or provide you with the templates.

Contact
Contact Dana Barber at Dana@Promising-Pages.com for more information.
**Please note: All project supplies must be paid for from your departmental budget.
---
Backpack Program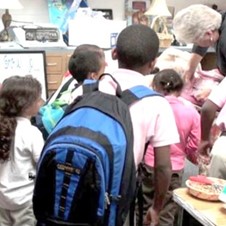 Atrium Health Navicent Healthy Communities has partnered with Forest Hills United Methodist Church for their Backpack Ministry Program. We're seeking teammate volunteers to assist with packing bags of food.

Volunteers are needed for the following dates from 4 to 6 p.m. Register to volunteer.
October 7, 2021
October 21, 2021
November 4, 2021
November 18, 2021
December 2, 2021
December 16, 2021
January 13, 2022
January 27, 2022
February 10, 2022
February 24, 2022
March 10, 2022
April 7, 2022
April 21, 2022
May 5, 2022
Questions? Please call Atrium Health Navicent Healthy Communities at (478) 633-6349