Re-entry Information
As Atrium Health returns to full operations, we continue to evaluate how to safely and effectively bring teammates back to work sites. We are requesting teammates who are currently working remotely to continue doing so through the month of June.
Talk to your leader first to determine if you are required to come back to your workplace or if you can continue working remotely. If any additional equipment or technology support is needed, please be sure to discuss this with your leader. Remember, all office equipment remains the property of Atrium Health and must be returned upon the leader's request. The leader will keep an inventory of such equipment.
Please review the general office guidelines below if you need to return to the office for any reason.
Working Remotely Tips and Tools
Access all the Atrium Health programs you need to successfully work in a remote environment.
Letters for Proof of Essential Work
COVID-19 Resources
Updated Daily, DO NOT PRINT:
---
For the full list of COVID-19 resources, please visit PeopleConnect.
---
Join Caroline Confidential as she shows teammates how to stay safe and protect work information while working remotely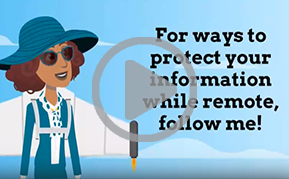 ---
Be Prepared
Getting Started
Voicemail Access and Making Phone Calls
To access your work phone voicemail remotely:
Use the features of the phone or carrier to "hide" your number when making outbound calls:
then Settings and then More Settings (…) Show my caller id and hide my number.
Tips for slow home internet issues
Online Meeting Tips and Etiquette
Email Tips and Etiquette
Stay in Touch
General Office Guidelines & Best Practices
Re-Entry on an As-Needed Basis
Teammates will continue to work remotely unless their leaders indicate a return to the office is necessary. Any return to working in the office will follow specific workplace distancing guidelines and infection prevention practices as detailed below:
Behavioral Guidelines
Practice regular hand hygieneWear a mask when you are around other people to protect them, as well as yourself, from spreading COVID-19. You may use your own mask or one of the cloth masks donated to Atrium Health. If a cloth mask is not available, surgical masks are approved and should be worn by non-patient facing teammates. Read the full face mask guidance on PeopleConnect. If you don't have a mask, please speak with your leader. Surgical masks and cloth masks can both be ordered from eMerald.
Refrain from shaking hands or giving hugs
Stay home if you are sick
Maintain a distance of six feet from others, especially in all common areas of your workplace including elevators, restrooms, breakrooms, etc.
Continue to hold all meetings virtually
Eliminate all non-essential business travel (even locally). Limit movement around the office whenever possible
Environmental Guidelines
Limit Number of People: Leaders are determining the best way for each work group to begin returning to the office while limiting the total number of teammates. Some leaders will use alternating days; others will have team scheduling.
Entry: Teammates should be prepared to be screened for COVID symptoms when they report to work.
Shared Workstations: Workstations should not be shared among teammates, even on different days of work, if possible.
Conference Rooms: We encourage you to avoid using conference rooms until these restrictions are lifted. You can use conference rooms and meeting spaces as workstations or virtual meeting rooms as long as the occupancy is limited to the number that can maintain six feet of separation.
Work Areas: Allow for a six-foot diameter boundary around each active teammate work area. This may include closing certain work areas or cubicles. Scheduling should help achieve this. Floor stickers are available via Emerald (for hard surfaces only) where this may be a useful visual indicator.
Circulation: If office aisles are narrow and don't allow for six-foot separation, consider designating traffic flow in a circular manner and consider use taped arrows to indicate preferred flow.
Amenities: Clean hands before and after using amenities. Offer sanitizer in your break room. Sanitize hands before making coffee and clean the coffee pot routinely. Social distance when using water dispensers, water fountains and ice makers. Refrigerators and microwaves should be cleaned when visibly soiled.
Meal and Break Periods in the General Office or Cubicle Work Area - Meal and Break Period HR policy 2.05 states that under normal conditions, teammates are not allowed to take their meal period at their work area unless approved by a teammate's leader. During this continued unprecedented time however, meal periods may be taken in the general office work areas when necessary, please note that this does not apply in patient care areas such as nursing stations, registration desks, lab draw stations etc. Teammates required to remain in their work area, and on duty during their meal period, will be paid for such time. Please remind your teammates of the importance of remaining six feet away from others when removing their mask for meals.
Additional Resources
Letters for Proof of Essential Work:
Work from Home in times of Coronavirus: Watch the CDC COVID-19 video.