Nutrition
Are you drinking enough water?
If not, you are not alone. Many people don't drink enough water throughout the day, or they choose beverages that are full of sugar more often than they should. Water plays many important roles in our health and wellness.
Explore Nutrition with LiveWELL:
How to Drink More Water
Water is essential for life and good health. In fact, 60% of the human body is made up of water. For example, water plays a key role in digestion, regulating body temperature and kidney function. How much water our bodies need can vary based on age, gender, size, activity level and even weather. A good rule of thumb is to stay ahead of thirst, one of the first signs of approaching dehydration.
Get more water throughout the day by:
Carry a reusable water bottle to work or when running errands. For cold water all day, freeze the bottle the night before.
Choose water instead of beverages high in sugar like soda, sweet tea or juice. Just swapping one 20-ounce sugar sweetened soda for water will save about 240 calories.
Choose water when eating out to save money and reduce calories.
Add a wedge of lime or lemon to your water to improve taste.
Sliced fruit like strawberries, oranges and watermelon are also good choices to add flavor
For a milder taste add sliced cucumber or fresh herbs like mint and basil.
We also get water from many of the fruits and vegetables we eat:
Cantaloupe, strawberries, watermelon, lettuce, cabbage, celery, spinach and cooked squash are up to 90% water
Bananas, grapes, oranges, pears, pineapples, carrots, cooked broccoli and avocados are more than 70% water.
---
Eat Right, Bite by Bite Tips
Eat a variety of nutritious foods every day, from all the food groups.
Take time to read Nutrition Facts labels.
Plan your meals each week. Shop for healthful foods at the grocery store and be menu-savvy when dining out or traveling.
Prepare tasty, nutritious meals at home and get your entire family involved in the kitchen!
Try new foods and flavors.
Find ways to reduce food waste
Always practice proper home food safety.
You can get personalized nutrition advice to help set and achieve your goals by consulting a registered dietitian nutritionist. (See Medical Nutrition Therapy.)
Teammate Stories
Joe Edwards, Patient Safety Attendant, finds a nutrition lifestyle to help take care of his heart.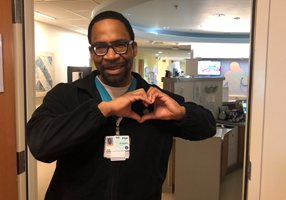 On a Saturday afternoon in October 2019, Joe experienced what he thought was indigestion, but his neighbors encouraged him to get to the hospital. His neighbors drove him to the Atrium Health Carolinas Medical Center emergency department, where doctors told him he was having a heart attack.
From that day on, Joe has made big changes to his diet. Since his heart attack, he has not eaten any fried food. Instead, he follows the Mediterranean Diet, eating mostly salads, salmon and baked chicken. He is also going to Cardiac Rehab at Atrium Health Pineville twice a week. It is great exercise, and he loves it.
Today, when someone asks Joe how he feels, he says "I feel pretty good…no, make that great!"
Pat Fogarty, RD, Senior Dietitian Nutritionist, teaches easy ways to add plant-based nutrition to your lifestyle.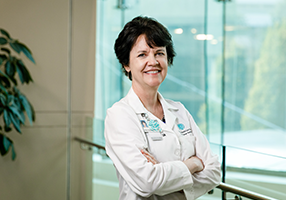 Pat encourages her nutrition class participants to incorporate at least one or two meat-free meals each week and replace one snack a day with fruits and vegetables. Foods like beans, tofu (if you're adventurous!), legumes, basmati rice, cauliflower, baby carrots and cucumbers. Pat's personal favorite is mini sweet peppers with hummus or low-fat dressing.
Plants contain phytochemicals, which protect cells from damage that could lead to cancer. Here are 20 ways to eat more fruits and vegetables throughout your day.
Learn more about Pat's story in the LiveWELL Calendar.
Mike Newton, Systems Engineer, reduces added sugars and preps his meals from home to achieve his nutrition goals.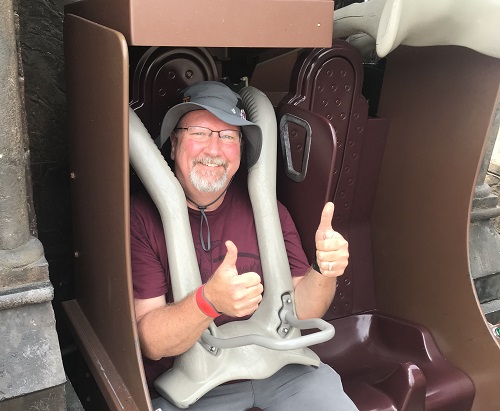 In 2010, Mike lost 55 pounds by reducing sugary sodas and increasing exercise. By 2018 the weight had returned. On a family trip to Universal Studios, he found himself unable to join his family on a ride due to his size. Motivated, Mike reflected on his successes in 2010 and reduced sugar and sodas while walking at least 10,000 steps a day. He joined the LiveWELL Omada program, using the program tools including health coaching and the app meal tracker. In September 2019, Mike returned to Universal Studios, 60 pounds lighter and enjoyed the Harry Potter ride he could not ride only a year before. Today, eighty percent of Mike's day is sedentary. To get steps in, Mike walks before and after work, and during lunch to get his steps in. He prepares his meals from home and seeks out new goals like tracking fiber in his diet.  He finds continued support through a Facebook weight loss support group. This year his steps completed are already equal to the distance to Pigeon Forge, TN.
Keri Brown, Administrative Assistant – IAS, finds support with teammates and a structured weight loss program.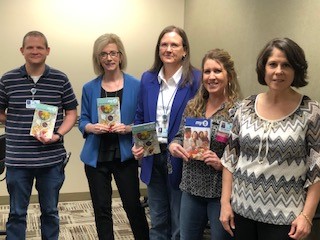 Every Wednesday a group of teammates gather for a meeting. This meeting is unique, each teammate is a Weight Watchers participant, there to support each other on their well-being journey.
Keri Brown started this on-site Weight Watchers meeting in the summer of 2019, speaking with teammates to generate interest.  In addition to group support, Keri attributes her success to tools like the Weight Watchers app, utilizing the app's points tracker and food scanner to track points on-the-go. She is more aware of food portions and calorie intake. One of her 'ah-ha' moments was discovering her breakfast was more points than she needed in one day! Since starting the program, Keri has also seen her healthiest routine lab results in five years.
Today, twenty teammates are starting their third, 12-week Weight Watchers series. Collectively, the group has lost more than 500 pounds to-date, with individuals losing 30-40 pounds and maintaining their weight loss. In addition to their Wednesday meetings, teammates find continued support through their Yammer group.
Healthy Food Environment
All teammates can help support a healthy food environment. Consider these Atrium Health guidelines when planning to order food for your next event or before you request a Food Truck visit.
Offer at least one serving of vegetables or fruit with every meal.
Offer modest portion sizes. Large items, such as sandwiches and pizza, should be cut
in small portions.
Avoid serving fried food options.
Provide whole grain options when offering grain foods such as bread, pasta and side dishes.
Water is the best beverage choice. Carafes of water, rather than bottled water, is the green choice. If a sweetened beverage is offered, provide at least one non-calorie beverage.
Consider fruit in place of traditional desserts. When offered, desserts should be small servings.
Provide vegetarian or vegan options if requested by attendees.
Offer a side of steamed vegetables or fresh fruit if sides are an option.
Serve modest portion sizes. Large items, such as sandwiches and pizza, can be cut in small portions if requested.
Offer baked or grilled lean protein choices as an alternative to fried.
Provide whole grain choices when offering grain foods such as bread, pasta and rice.
Water and non-caloric beverages are a choice when beverages are served.
Desserts should be small servings.
Provide vegetarian or vegan options if requested.
Atrium Health has worked with our vendors to ensure that healthier options like unsweetened beverages, low-fat and low-sugar snacks are available in each machine. These items are usually indicated by a green check mark. When in doubt, here are some healthier options to look for:
Baked chips, Chex mix, pretzels and multi-grain snacks
Healthy snack bars that are high in fiber and protein and low in sugar
Dried or canned fruit
Dry roasted nuts
Trail mix
Low-fat popcorn
Water or other low/no-calorie beverages of your choice
Medical Nutrition Therapy
Atrium Health has Registered Dietitians/Nutritionists (RDN) available for outpatient visits to help you reduce your health risks through Medical Nutrition Therapy.
Teammates or family members who get an appropriate referral and are on the LiveWELL Health Plan can meet with a dietitian at no cost. Medical Nutrition Therapy is available only at select Atrium Health locations.
Note: Teammates on a LiveWELL Health Plan may be eligible to earn the Physical Well-Being Incentive for Medical Nutrition Therapy.
Learn more about Medical Nutrition Therapy.
Nutrition Life Hacks
Visit the Weight Loss Program page for additional weight management resources.