One Heart Do Your Part
As caregivers, we need to recharge and engage in our own health -- as we continue to care for our communities. We care about your heart and encourage you to care for it, too. Thank you for doing your part so you can take care of our patients and your fellow teammates.
In recognition of Heart Health Month, we encourage you to:
Get Enough Sleep: According to the Centers for Disease Control & Prevention (CDC), adults who sleep less than 7 hours each night are more likely to say they have had health problems. This includes heart attack and heart disease. Visit the Healthy Sleep Habits page to assess your sleep habits.

Eat Healthy Foods: A Mediterranean-style diet can help prevent heart disease and stroke. Enjoy these amazing heart healthy recipes with the entire family.

Exercise Daily: The American Heart Association recommends 150 minutes per week of moderate-intensity aerobic activity or 75 minutes per week of vigorous aerobic activity, or a combination of both. Access on-demand fitness videos.
---
Atrium Health Wear Red Day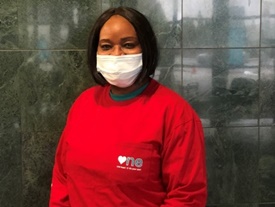 Thank you for participating in Atrium Health Wear Red Day. $1 from each heart health t-shirt and pull over will be donated to each region's designated organization. These great organizations help our teammates, patients and the communities we serve each day.
2022 Heart Health Month campaign t-shirt and pull over sales:
Greater Charlotte teammates raised over $1,650 towards Cardiac Rehabilitation through the Atrium Health Foundation.
Atrium Health Navicent and Atrium Health Wake Forest Baptist combined to raise nearly $600 for the American Heart Association
Atrium Health Floyd collected $200 to benefit the More Heart Advisory Committee.
---
Heart Healthy Advice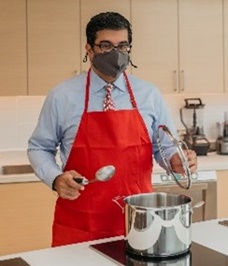 "Participate in heart-healthy diet and fitness activities."
To maintain a healthy heart, Dr. Mehta encourages teammates to get a consistent amount of sleep, commit to eating healthy foods and exercise daily.

Watch Dr.Mehta's Story

Rohit Mehta, MD
Cardiac Electrophysiologist, Director Cardiac Device Clinic, Sanger Heart & Vascular Institute, Kenilworth
"Prevention of disease must become the goal of every physician." -Henry Sigerist
Watch Dr. James on Atrium Health Navicent Knows Health
Erskine James, MD, FACC, FHFSA
Medical Director, Advanced Heart Failure Center
Atrium Health Navicent
---
Send a One Heart eCard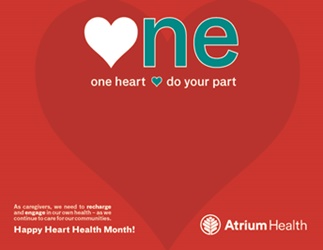 Show your teammates you appreciate them and remind them of the importance of a healthy heart by sending the One Heart eCard. Share your heart and gratitude all month long. Access your platform by selecting your work location below:
---
Additional Resources for Heart Health
---
Take Time Out for Prevention | Greater Charlotte
Atrium Health Greater Charlotte teammates have a total of two hours of paid time, in 15-minute increments, at any time during the year, to complete routine preventive care. Visit the Time Out for Prevention page to learn more.