What Does Your Heart Beat For?
We want to hear from you. Share what your heart beats for on the LiveWELL Yammer page using #MyHeartBeats4.

Atrium Health is proud to bring awareness to Heart Health Month in February. We encourage teammates to make Heart Health a priority this month and all year long. Use LiveWELL's Quick Tips for a Healthy Heart to keep the beat strong, and remember what (your) #MyHeartBeats4.
Learn About Heart Health:
Quick Tips for a Healthy Heart:
Eat Healthy: Plan for a nutritious diet by adding color with fruits and vegetables. The goal is to have at least 5 servings per day along with lean proteins, whole grains, healthy fats and low-fat dairy. Limit added sugar, sodium and saturated and trans fats.
Move More: Increase activity gradually over time to reach the American Heart Association's recommendations of at least 150 minutes per week of moderate-intensity aerobic activity or 75 minutes per week of vigorous aerobic activity, or a combination of both, preferably spread throughout the week. Add muscle-strengthening 2 days per week and make a conscious effort to sit less.
Quit Tobacco: Smoking is the most preventable cause of death in the U.S. and smoking/second hand smoke contribute to 1/3 of deaths from coronary heart disease.
Source: American Heart Association
---
Atrium Health Teammates: Heart Health Story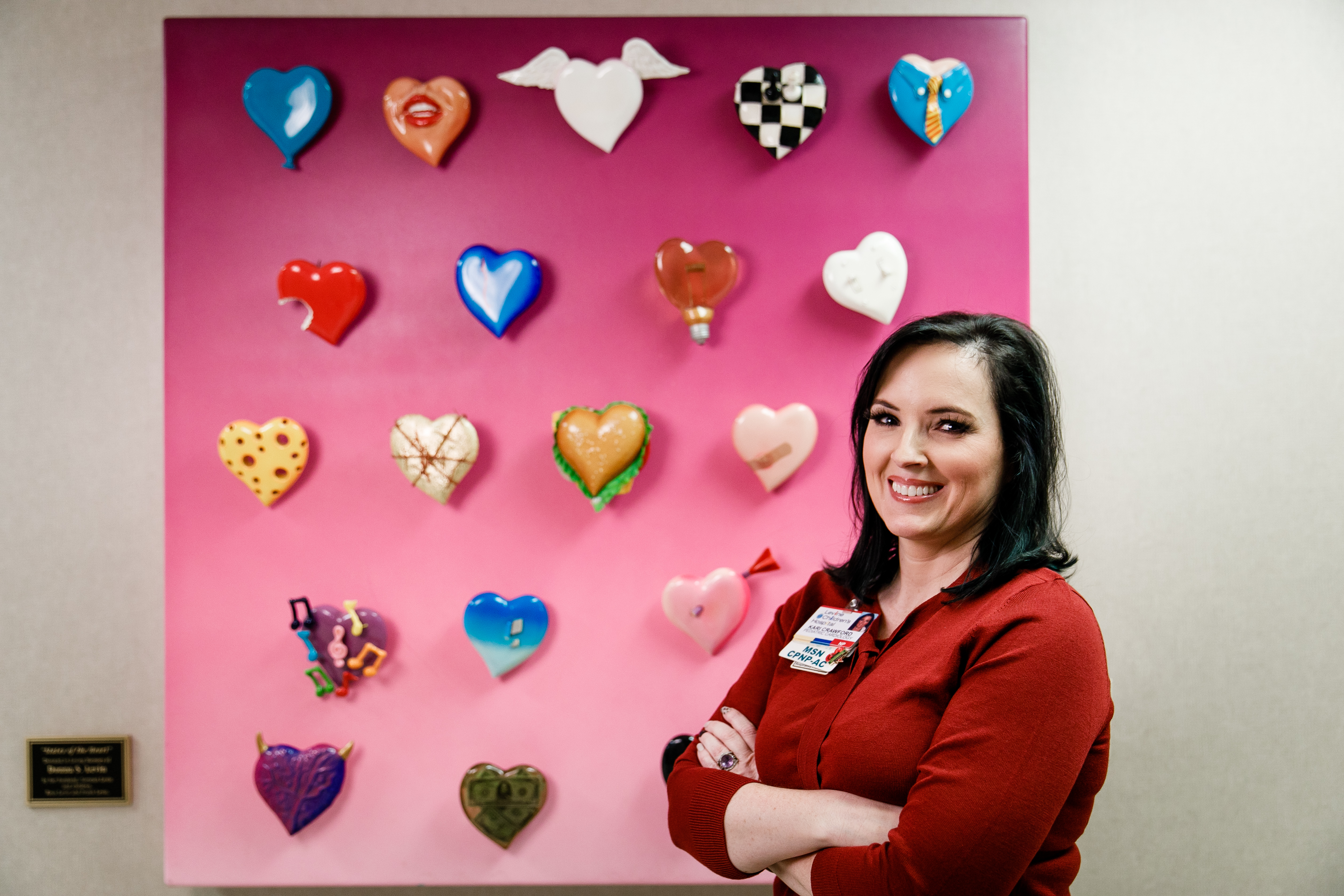 Kari Crawford MS, APRN-BC, CPNP-AC
In her late teens, Kari had open heart surgery that she says heavily influenced her future. She is a firm believer that women need to be advocates for their health and quality of life to have a happy mind, body, and spirit. She participates in fitness five days a week and focuses on a whole food diet with no processed foods or artificial ingredients.





---
Wear Red and Purchase a Heart Health T-Shirt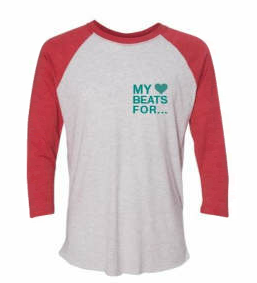 Wear Red Day for Atrium Health is Friday, February 14, 2020 and teammates are encouraged to wear red each Friday in February.
Two ways to get your Heart Health shirt:
Order your 2020 Heart Health Shirt online.

a. Teammates, order your shirt from the Atrium Health Proud Store.
b. Leaders, bulk order shirts here.

Find a Pop-up Shop near you. Pick up your Atrium Health Heart Health shirt today at a pop-up shop near you! A portion of each shirt sale will benefit Atrium Health's Sanger Heart & Vascular Institute cardiac rehabilitation programs.
2020 Heart Health T-Shirt Pop Up Stores
Date
Time
Location/Event
1/28/20
11am-2pm
MCP-3rd floor (above Pharmacy)
Main Campus
1/29/20
11am-1pm
Pineville-Lower Level
Cafeteria Entrance
1/30/20
11am-2pm
Atrium Health Cabarrus
Café 920 – Main Entrance
1/31/20
11am-1pm
Atrium Health University
Discharge Lobby
1/31/20
2:30-4pm
Behavioral Health Charlotte
Conference Room 5
2/4/20
11am-1pm
Atrium Health Union
Cafeteria Entrance
2/5/20
11am-1pm
Atrium Health Stanly
Cafeteria Entrance
2/6/20
11am-1pm
Atrium Health Cleveland
2/6/20
2:30-4pm
Atrium Health Kings Mountain
Community Room
2/7/20
11am-2pm
APC Building K-Main Lobby
2/11/20
11am-1pm
Atrium Health Lincoln-Main Lobby
2/12/20
10am-3pm
Atrium Health Mercy-Experience Day
Auditorium
2/14/20
7am-10am
Atrium Health's Carolinas Medical Center
Carolinas Dining Room 3rd Floor
16th Annual Cupid's Cup 5K on Saturday, February 15th
Walk, jog or run in the 16th Annual Cupid's Cup 5K sponsored by the Atrium Health Foundation. You can save 10% on registration with the discount code LIVEWELL (one word, all caps). If you can't make the race, make a commitment to Move More with a LiveWELL Challenge.
Learn How LiveWELL Can Support Your Heart Health
To earn your LiveWELL Physical Well-Being Incentive
1. Start in the Total Health Portal. Complete the Personal Health Survey FIRST.
2. To earn your Physical Well-Being Incentive, complete at least one of the following tasks:
Earn $250 for Teammate-only coverage and $500 for Family coverage once you complete this incentive.
Take Time Out for Prevention
Teammates have a total of two hours of paid time, in 15-minute increments, at any time during the year, to complete routine preventive care. Visit the Time Out for Prevention page to learn more.