What Does Your Heart Beat For?
We want to hear from you. Share what your heart beats for on the LiveWELL Yammer page using #MyHeartBeats4.
Atrium Health is proud to bring awareness to Heart Health Month each February. We encourage teammates to make Heart Health a priority all year long. Use LiveWELL's Lifestyle Quick Tips for a Healthy Heart to keep the beat strong, and remember what (your) #MyHeartBeats4.
Learn About Heart Health:
Wear Red Day - Friday, February 12, 2021
Participate in Atrium Health Wear Red Day on Friday, February 12, 2021. Teammates are encouraged to wear red each Friday in February.
Order your Heart Health T-Shirt online today!

1. Teammates - Order your shirt from the Atrium Health Proud Store.
(Purchase your t-shirt from the Proud Store and receive free shipping. Use the Proud Store for individual orders. Credit/debit cards accepted for payment.)

2. Leaders - Order shirts for your team from the Teammate Appreciation Store.
(Purchase bulk orders from the Teammate Appreciation Store. Department Codes accepted as payment.)
Did you know? During the 2020 Heart Health Month campaign, nearly $3,500 was raised from Atrium Health teammate t-shirt sales, benefiting Cardiac Rehabilitation through the Atrium Health Foundation. This year, $1 from each t-shirt sale will go to the same cause.
Participate in the 17th Annual Cupid's Cup 5k, February 7-14, 2021
Visit www.CupidsCup5k.com for details and to register.
Send an eCard Today
Show your teammates you appreciate them and remind them of the importance of a healthy heart. Visit the Recognition & Rewards Platform to send a #MyHeartBeats4You eCard. You'll find this eCard in the "Just Because" category.
Celebrate All Month with an MS Teams Background Image
Download one of these MS Teams background images to stress the importance of a healthy heart. Choose from two image options – red or teal.
Lifestyle Tips for a Healthy Heart:
Eat Healthy: Eating a Mediterranean-style diet may help prevent heart disease and stroke and reduce risk factors such as obesity, diabetes, high cholesterol and high blood pressure. This type of meal pattern is rich in plant based whole foods like fruits, vegetables, bread and other whole grains, potatoes, beans, nuts, seeds and olive oil. It also includes some low-fat dairy products, eggs, fish and poultry.

To learn more about the Mediterranean Diet, watch this webinar created by Sangar Heart Cardiac Rehab dietitian, Renaye Razewski.

Mediterranean Diet 101


Move More: Increase activity gradually over time to reach the American Heart Association's recommendations of at least 150 minutes per week of moderate-intensity aerobic activity or 75 minutes per week of vigorous aerobic activity, or a combination of both, preferably spread throughout the week. Add muscle-strengthening 2 days per week and make a conscious effort to sit less.


Quit Tobacco: Smoking is the most preventable cause of death in the U.S. and smoking/second hand smoke contribute to 1/3 of deaths from coronary heart disease.
---
Resources for Cardiac Patients
Cardiac Rehabilitation is a multidisciplinary program that provides monitored exercise, nutritional counseling, stress management and education for improved cardiovascular health. Atrium Health has six locations:
Atrium Health Cabarrus
Atrium Health Cleveland
Carolinas Medical Center
Atrium Health Pineville
Atrium Health Stanly
Atrium Health Union
Qualifying Cardiac patients will need a physician referral to get started. For more information, take a few minutes to watch this cardiac rehabilitation video:

Atrium Health Cardiac Rehabilitation Orientation
---
Atrium Health Teammates: Heart Health Story
"Engage in heart healthy activities."
For a healthy heart, Dr. Koehler recommends eating foods low in saturated fats, such as the Mediterranean diet and getting enough exercise. Walk for 30 minutes 5 days a week, or go cycling, jogging, or hiking with hill climbing for a total of 75 minutes per week.
Daniel Koehler, DO
Cardiologist, Atrium Health Sanger Heart & Vascular Institute
From Heart Scare to Healthy Heart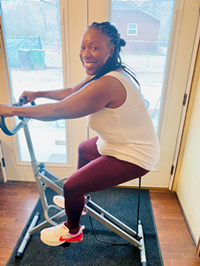 "It has been almost three years since my heart scare, and I have made changes in my life to have a healthy heart. I eat better, and I use my stationary bike almost every day."

Read Laronda's Story on PeopleConnect

Laronda Hudson
Sr Human Resource Associate, Health & Well-Being Benefits, Human Resources
---

LiveWELL Resources for Heart Health
Physical Well-Being: Complete your Annual Wellness Exam (includes age, gender and condition-appropriate labs and screenings) or Engage Medical Nutrition Therapy to improve your blood pressure or cholesterol

Financial Well-Being: Reduce financial stress by watching Building a Better Budget On Demand - YouTube or Exploring Free On-Demand Fitness Opportunities

Personal Well-Being: Watch one of the On-Demand Webinars on Fitness, Nutrition or Resilience or Volunteer Through Atrium Serves or Give to Atrium Health Foundation/Cardiac Rehabilitation
Take Time Out for Prevention
Teammates have a total of two hours of paid time, in 15-minute increments, at any time during the year, to complete routine preventive care. Visit the Time Out for Prevention page to learn more.