Family Health
Be Healthy Together with Your Family!
Celebrate Family Health Month all year long. Get active and healthy with your family, friends, teammates or pets. Make time to be healthy together.
Use these resources to Be Healthy Together!
Make Preventive Care a Priority for Your Family
With the LiveWELL Health Plan, preventive care is covered 100%.
The entire family (3 years of age and older) can visit On-Site Care for a wellness exam
If you need a primary care provider, go to Find a Doctor
Teammates receive a total of two hours of paid time off at any time during the year for their own preventive care

To be eligible for Time Out for Prevention, teammates must be enrolled in the LiveWELL Health Plan AND their appointment should be completed during regularly scheduled work time. Visit the Time Out for Prevention page for more information

Review the Preventive Care Guide and get preventive screenings for the entire family
Teammate Family Health Story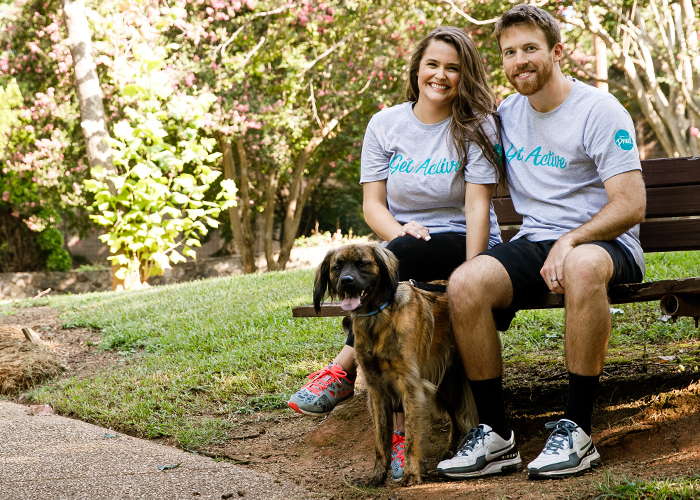 Katy and Kirby Methven
Workforce Management Operations, Human Resources
Patient Account, Patient Financial Services
Walking and hiking together always have been an important part of Katy and Kirby's lives. The two Atrium Health teammates decided to add one more fitness friend when they adopted their puppy, Lenny. Their newest, furry family member has helped take their fitness to a new level of fun!
Parenting and Adolescent Resources
Teen Health Connection is a part of Atrium Health Levine Children's Hospital and specializes in health care needs of adolescents and education for parents. Services include education, preventive care, medical care and mental health care, specifically for adolescents ages 11 – 22.
If you know of a teen who is interested in developing their leadership skills, the Teen Advisory Board is looking for new members.
Learn more about Teen Health Connection.
Atrium Health Benefits for Families
Dependent Back-Up Care: Provides care for a child or dependent adult when an emergency arises or when regular care plans are not available. Teammates may enroll in this benefit at any time.
Care Includes up to 15 days per year:
Center-based care
Evening and weekend in-home care
School holidays or inclement weather emergencies
Business travel
Caregiver vacations
In-home care after minor surgery
Access to trained caregivers
Center-based care is $25 per day
In-home care is $25 per day for up to 4 children
$75 per day reimbursement for Friends and Family
Smart Starts Maternity Education Program through MedCost Pregnant teammates can participate in this as alternative to health coaching. Teammates must begin no later than 20 weeks gestation. Call 800.722.2157 to participate.
Newborn Transitional Care New parents receive up to 30 days of care that can be used until the date of your baby's first birthday, at no cost to you. Available to full-time and part-time teammates. Teammates may enroll in this benefit at any time.
Includes:
Pre-screened care providers that are highly trained at caring for infants, giving you peace of mind to return to work.
Recommendations for nationwide child care centers and in-home agencies. You can even choose to use a trusted friend or family member.
Makes sure you get the help you need to make your transition easier. Schedule care up to 60 days in advance of the start date. Schedule ahead of time or in a pinch.
Connects you to reliable temporary care for your new baby as you transition back to work and support you as you decide on a longer-term care plan.
Pet Insurance

:

Minor vet bills can add up to major spending. In fact, pet parents will spend nearly $17 billion on veterinary care this year. Get coverage for your furry family member!
Share your pictures
Share your pictures on the LiveWELL Yammer page to show us how you stay healthy as a family using #FitFamily.
Learn More
For more information about how your family can be Healthy Together review: