Family Health
Be Healthy Together!
Get active and practice good preventive health habits with your family, friends, teammates or pets:
Use these resources to Be Healthy Together!
Make Preventive Care a Priority for Your Family
With the LiveWELL Health Plan, preventive care is covered 100%.
Join a Yammer Conversation
LiveWELL
Resources that support your physical, financial and personal health

Parents at Atrium Health
Teammates can ask questions of other parents, swap stories, and share inspiration
Atrium Health Benefits for Families
Mental Health Resources
Share Your Story
Share your photos on the LiveWELL Yammer page to show us how you stay healthy with family and friends using #livewell.
Join LiveWELL's physical activity challenge in June! Complete 15 minutes of physical activity five days each week, or a total of 20 days in June, for a chance to win LiveWELL prizes. Details available in your Total Health Portal.
Teammate Family Health Stories
Teri Boger, Risk Analyst, Atrium Health Cabarrus
Teri's daughter started running for her school Cross Country team three years ago, and her husband started running as well. In 2019, Teri and her family participated in their first 5K together. She says making time to get fit together has brought them closer as a family.
---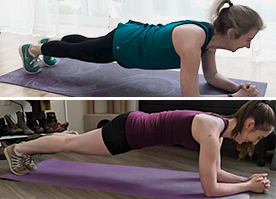 Cynthia Peterson, Director, Information and Analytics Services

Cynthia knew she needed an accountability partner to hold her to her fitness goals, so she asked her daughter to join her in a 30-day plank challenge. Five minutes each day slowly expanded to include arm, abs and legs exercises with daily mother-daughter calls to check in on progress. Thirty days came and went, and this cross-country family challenge is ongoing with more than 175 consecutive workouts!
---
Fitness with Family and Friends
Get the Most Out of Your Workout
This webinar is designed to educate you on the basic components of a comprehensive exercise program. Learn how to incorporate cardiovascular, strength and stretching into your routine with the goal of designing the best workout for YOU!