There is No Health Without Mental Health
Atrium Health aims to remind teammates to take care of your mental well-being. Mental health includes your emotional, psychological (affecting the mind) and social well-being. It affects how we think, feel and act. It also helps determine how we handle stress, relate to others and make healthy choices. When experiencing mental health problems your thinking, mood, and behavior could be affected.
In recognition of 2023 Mental Health Awareness Month, we encourage you to take care of yourself mentally and physically. Help break the silence around mental health by practicing the following:
Need Help Now
Call or text 988 if you need mental health-related crisis support or are worried about someone else.
Take Care of Yourself: Seek the right care for you by finding a safe place to talk – use your family, friends, social support groups or a professional. Practicing self-care can look different for everyone. Find activities that work for you such as journaling, practicing breathing techniques, exercise or practice good sleep hygiene.

Take Care of Others: Take time to check in on friends, family and teammates.

Questions to start the conversation:
It seems like you're going through a difficult time. What do you want me to know about how you are feeling?
I've been worried about you. Can we talk about what you are experiencing? If not, who are you comfortable talking to?
I'm concerned about you, but I'm not sure what to do, let's talk to someone about this.
If the friend doesn't want to talk, remind them you are there for them when and if they need support.
Talk about Mental Health: Bring awareness about mental health by talking about it. The more you talk about it the more normalized it will become. Mental health problems are common, and help is available for all. View resources offered by Atrium Health by visiting the Mental Health Support page.

On This Page
---
Take the Pledge
Take the pledge to show your support for mental health awareness and your commitment to be kind to your mind.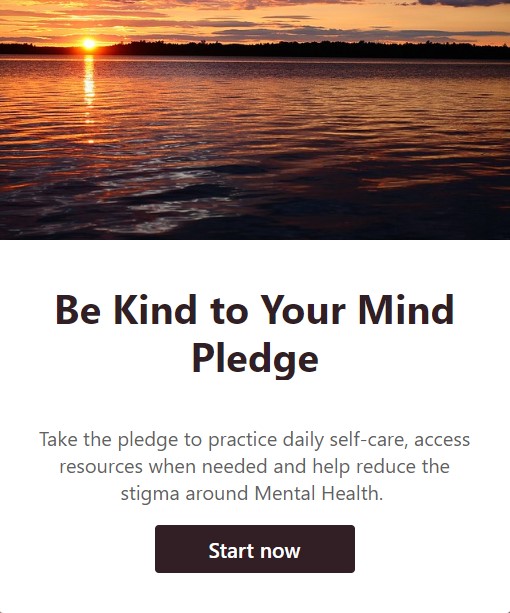 ---
Support Atrium Health Mental Health Awareness Day
Atrium Health Mental Health Awareness Day is held in May. Teammates showed support for mental health awareness by wearing the 2023 Atrium Health "No Health without Mental Health" t-shirt on Mental Health Awareness Day.

Order Your Mental Health Awareness Shirt
Order your 2023 Atrium Health Mental Health Awareness shirt on the Atrium Health Proud Store.
---
Show Your Digital Support
Download Microsoft Teams Background
Show your support for Atrium Health's Mental Health Awareness Day by downloading the custom Microsoft Teams background. Right click on the image and save the image (click save image as) to download to your computer. Follow these steps to change your background in Teams

Change your background before a meeting starts:
While you're setting up your video and audio before joining a meeting, Video Effects. It's just below the video image. Click More Video Effects for you our background options to display on the right.
To add the Mental Health Awareness background, select Add new and then select the image to upload from your computer.
Change your background during a meeting:
Go to your meeting controls and select More (…) >Video effects.
To add the Mental Health Awareness background, select Add new and then select the image to upload from your computer.
Select Preview to see how your chosen background looks before you apply it, and then select Apply. ---
Send a Mental Health eCard
Show your teammates you care about them and their mental health by recognizing them in the Rewards and Recognition platform with the new mental health awareness eCard.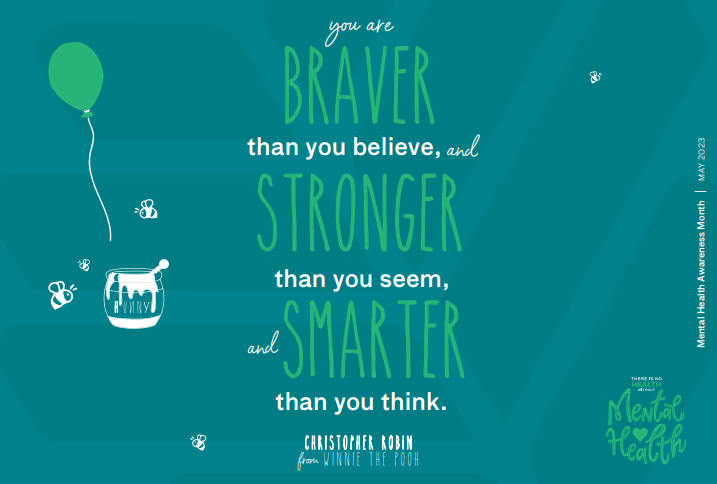 ---
Mental Health Advice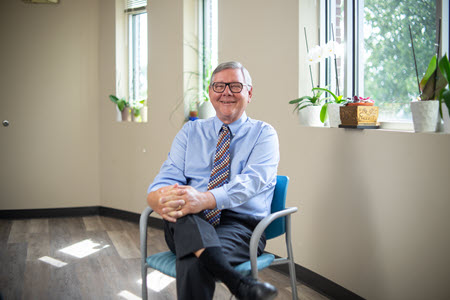 "There is no real health without mental health."

Steven Scoggin, M.Div., Psy.D, LCMHC
Associate Vice President of Behavioral Health
Associate Dean of Faculty Leadership Coaching and Care
Executive Vice Chair and Assistant Professor, Department of Psychiatry and Behavioral Medicine
Atrium Health Wake Forest Baptist

Dr. Steven Scoggin is an executive sponsor of the enterprise Mental Health Task Force across Atrium Health, established to reduce stigma and increase access to mental health resources for teammates and their families. For improved mental well-being, he encouraged teammates to work on taking breaths from their diaphragm, setting good boundaries and practicing self-awareness. "If you see someone struggling, talk with them and help them get connected with the appropriate Atrium Health resources."
---
How Are You Feeling?
Signs of depression may not always be obvious to a person. This short assessment about your mood can be used as a first step in depression screening. Answer the questions to identify if you need additional evaluation for a depressive disorder.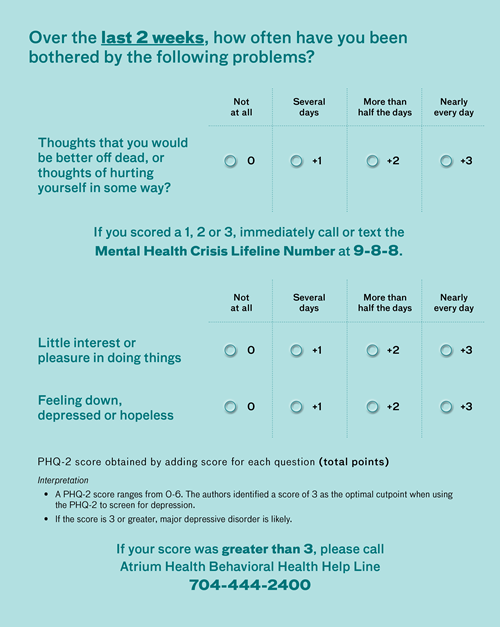 ---
Mental Health Support Events
Atrium Health Wake Forest Baptist
The NCANA Run for Joy 5K in Memory of Katelyn Joy Beardsley
The NCANA Run for Joy 5K honors the memory of Katelyn Joy Beardsley. Run for Joy seeks to combat this stigma and support the mental wellness of heath care trainees. Proceeds from the race will support programming to increase awareness of mental health issues and promote mental wellness and advocacy.

Saturday, October 21, 2023 | 9:00 am | Winston Salem
---
Words Matter: Say This and Not That
Remember that your words matter. Be mindful of your word choices with the help of this table. Visit the National Alliance for Mental Illness for more tips on speaking about mental health. For more information on how you can make a difference in supporting a friend or family member with mental health problems, visit MentalHealth.gov.
| | |
| --- | --- |
| Say This | Not That |
| That's so surprising/unpredictable. | That's so crazy/insane/mental. |
| I can see you're having a hard time. I'm here for you. | Just relax. |
| I'm having a hard time paying attention. | I'm so ADD right now. |
| I spent all day cleaning my house. | I was so OCD this weekend, I spent all day cleaning my house. |
| The weather has been so unpredictable. | The weather is so bipolar. |
| What you're feeling is difficult. I'm here for you. | It could be worse. You could try harder to get over it. |
| Your feelings are valid. I'm here to listen. | Good vibes only! Why don't you focus on the positive. |
---
Group Mental Health Coaching
Our bodies manage stress in small doses, but when that stress becomes long-term, it can have serious effects on our health and well-being. Physical, emotional and behavioral symptoms can develop, ranging from headaches and difficulty sleeping, to chest pain or high blood pressure, to depression and anxiety.

A special Group Coaching pilot opportunity is now available throughout May or June.
A LiveWELL coach will lead you through two engaging group health coaching sessions.
You will participate in discussions and activities aimed to recognize many common stress symptoms, as well as create strategies and goals that will be helpful to improve your well-being.
Participation in both sessions is required.
The sessions will be facilitated through a Teams Live event to allow for privacy and confidentiality.
Active engagement is voluntary but encouraged.
The group coaching sessions are not designed or intended as therapy sessions.

Registration today

Space is limited, so register today. Select one of two group sessions. Participants will receive the link to Teams Live meeting prior to the first session.

Session 1:

Appointment 1: Tuesday, May 9 from 12 to 12:30 p.m.
Appointment 2: Tuesday, May 23 from 12 to 12:30 p.m.
Session 2:

Appointment 1: Thursday, May 18 from 2:30 to 3 p.m.
Appointment 2: Thursday, June 1 from 2:30 to 3 p.m.
Behavioral Health Care Programs:
Behavioral health includes a person's state of mind and their physical condition. Learn more about behavioral health programs across Atrium Health.
---
Additional Resources for Mental Health