Tennis Lessons
Tennis is a game for a lifetime. All ages and skill levels can benefit from tennis. Whether you just want to have fun while getting some exercise, like friendly competition, or just want to challenge yourself with tougher tournament and league play, then this is an ideal activity for you!
Indoor lessons are available. Review the information below and sign up today.
Open to Atrium Health Teammates and Family
All Skill Levels Are Welcome

Beginners - Learn how to play the game of tennis
Intermediate - Improve your game
Competitive - Hone advanced technique and strategy

Available:

Group Lessons: Learn about or improve your tennis game while playing with others of similar skill levels in a fun, economical way
Individual/Private Lessons: Instruction focused on your individual game, including working on your stroke, technique, or strategy.

When - Registration is ongoing. Contact your coach for Availability!
All in to Win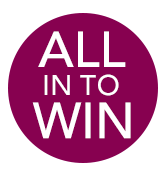 Earn FOUR entries for participating in this program.
Lessons Are Taught by USPTA P-1 Certified Instructors
Gregg McIntosh
Gregg is a Mt. Holly native. He has a BS from NCSU, and a PhD from UNC-CH. He has also taught chemistry at Winthrop University
His tennis experience includes:
USPTA Elite Professional
Coached Forestview High School
Coached Gaston Day School
USTA Official
USTA Tournament Director
Email Gregg directly to schedule a time to work with you.