LiveWELL Fitness
The Benefits of Being Fit
Being physically active is a key component to leading healthier lifestyle. Together, well-balanced, nutritious meals and regular physical activity can have these benefits:
Increased longevity
Reduced risk of disease
Increased energy levels
Healthier sleep patterns
Improved mood
Reduces chances of injury
All in to Win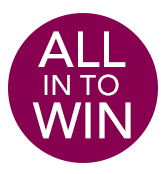 Participate in Group Fitness and earn FOUR entries for each event.
Group Fitness
LiveWELL offers a variety of group fitness classes for all ability levels. Please bring your badge to class to participate. For more information, see class descriptions below.
For the safety reasons, children are not allowed in the building during Group Fitness class times. Please refer to the Children in Workplace Policy HR – 5.10 located on PeopleConnect.
Most group fitness classes are free. Here are the locations:
LiveWELL Office
Day
Class
Time
Mondays
Kick Boxing
5:00 - 6:00 p.m.
Step Class
6:00 - 7:00 p.m.
Tuesdays
R.I.P.P.E.D
5:00 - 6:00 p.m.
Socacise
6:00 - 7:00 p.m.
Wednesdays
Pure Strength
5:00 - 6:00 p.m.
PiYo
6:00 - 7:00 p.m.
Thursdays
Barre
5:00 - 6:00 p.m.
Zumba - NEW INSTRUCTOR
6:00 - 7:00 p.m.
Additional Locations
Location
Class
Day/Time
Atrium Health Cleveland
Wellness Center
Mixxed Fit
REFIT
Tai Chi
Yoga
Monday – Friday
View Schedule
Atrium Health Kings Mountain
Community Room
REFIT
Mixxed Fit
Tuesdays and Thursdays
View Schedule
Atrium Health Lincoln
MOB #1, Oak Room
Yoga
Wednesdays 5:15 – 6:15 p.m.
CHS Northeast
College of Health & Sciences basement
Zumba
Mondays 5:30 – 6:30 p.m.
Wednesdays, 5:30 – 6:30 p.m.
CHS NorthEast Wellness Center*
1090 NE Gateway Ct, Ste 102
Concord, NC 28025
FitBody Bootcamp, Yoga,
Les Mills (Body Pump, RPM or CXWorx)
Monday - Saturday
View Schedule
YWCA
3420 Park Road
Charlotte, NC 28209
Work Out Wednesdays
Free to teammates on Wednesdays only
Check YWCA website for class listings and times. Child care available for a nominal fee.

www.ywcacentralcarolinas.org
No call necessary.
Teammates show badge.
*CHS NorthEast Wellness Center fees: $10 to join Wellness Center or $5 drop-in fee for classes
| | |
| --- | --- |
| Step Class | Step Aerobics is a fun classic cardio workout. The step is a 4-inch raised platform, you step up, around and down from the platform in different patterns to boost your heart rate and breathing and strengthen your muscles. |
| Kickboxing | A fast-paced cardio kickboxing class that is sure to get your heart rate up for optimal calorie burn! Optional to complete class using 1-2lb weights or no weight at all. |
| Zumba | A fitness class that combines Latin and international music with dance moves. Zumba routines incorporate interval training — alternating fast and slow rhythms — and resistance training. |
| R.I.P.P.E.D. | A combination of cardio kickboxing to start, followed by light weight training. This class uses 1-2lb weights for cardio kickboxing and 4-8lb weights for strength training. This class ends with low impact mat exercises. |
| Socasize | A high energy dance class with a creative blend of Caribbean dance movements. |
| Pure Strength | Using body weight and 6-8lb weights and a weighted body bar in repetitive, controlled movements to build, tone and strengthen muscle. |
| PiYo | A class that is a blend of Pilates and Yoga. The Pilates part strengthens and tones the body, while the Yoga part promotes mindfulness and relaxation. |
| Barre | A complete body workout fusing ballet barre conditioning, yoga and pilates. |
| Body Party | Body Party "In the Club" is a fitness experience that goes beyond the ordinary workout, incorporating high energy dance moves that will make you feel like you are at a dance party with your friends! |
Other Fitness Options and Discounts
How To Exercise at Work