Thank You Healthcare Heroes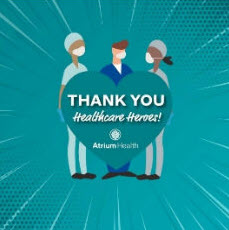 Thank you to all of our healthcare heroes for being here during the holidays! We are #AtriumHealthProud of your dedication and commitment through a truly unprecedented year.
Looking for ways to show your gratitude and share words of appreciation? To participate in our Healthcare Heroes Cards campaign, simply mail a card or get creative and make your own card. Even ask your friends, neighbors or church to help out. We know our heroes would love to hear from you. Let's flood them with cards so they can feel the love, too. Mail your Healthcare Heroes cards to:
Atrium Health
Attn: Healthcare Heroes Cards
PO Box 32861
Charlotte, NC 28232
Note: If you want to do more for our teammates, please email CommunityBenefit@AtriumHealth.org.
---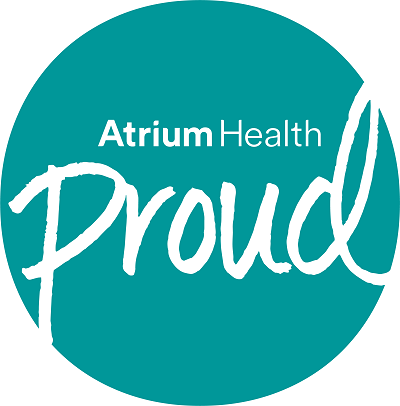 We Are Atrium Health Proud
This is COURAGE.

This is COMMUNITY.

This is CARING.

This is who we are. This is what we do every day.

This is Atrium Health.
Proud Videos
| | |
| --- | --- |
| This is a calling. | This is resilience. |
| This is strength. | This is standing up. |
| This is heart. | This is commitment. |
---
At Atrium Health, we are one team driven to make a difference by bringing together hundreds of locations and thousands of minds to care for millions of people. When you become an Atrium Health teammate, you join a community that is committed to providing you with tools and resources to support your physical, financial and professional health.
Our culture at Atrium Health is defined by strong Core Values: Caring, Commitment, Integrity and Teamwork. Our teammates – and their interactions with patients and each other – bring these Core Values to life every day, creating Our Atrium Health Way. The expression of these values makes Atrium Health a best place to work.
Atrium Health has received accolades for being a best place for women and diverse managers to work, as well as for our unique approach to integrating Diversity & Inclusion in the workplace and providing culturally competent patient care. Our annual Diversity Symposium attracts some of the nation's foremost experts in diversity in the workplace and healthcare.
LiveWELL empowers teammates to live happier, healthier lives by providing programs and resources to achieve health and life goals.
With a network of over 900 care facilities providing the full spectrum of healthcare services, Atrium Health offers teammates the opportunity to grow careers within the system across specialties, as leaders and in a variety of clinical settings.
At Atrium Health, we show appreciation for great work, years of service and meaningful actions that make a difference in the lives of our patients and teammates. Our Recognition and Reward programs are intended to inspire, motivate and connect our teammates to the Atrium Health purpose of improving lives. There are many ways to recognize a teammate.
Our teammates share many of reasons to be proud of their work and the contributions they make every day. We invite you to learn more about Atrium Health and discover all the possibilities our system has to offer.