For Greater Charlotte Teammates
Prescription Medications
CarolinaCARE is the prescription mail service and specialty medication pharmacy for the LiveWELL Health Plans. LiveWELL Health Plan members access CarolinaCARE for Affordable Care Act (ACA) medications, preventive medications, maintenance and specialty medications.
Atrium Health Retail Pharmacies: A group of retail pharmacies owned by Atrium Health that can save money and time when you have prescriptions to fill.
Retail Pharmacy: Any pharmacy outside of CarolinaCARE, including Atrium Health-owned retail pharmacies.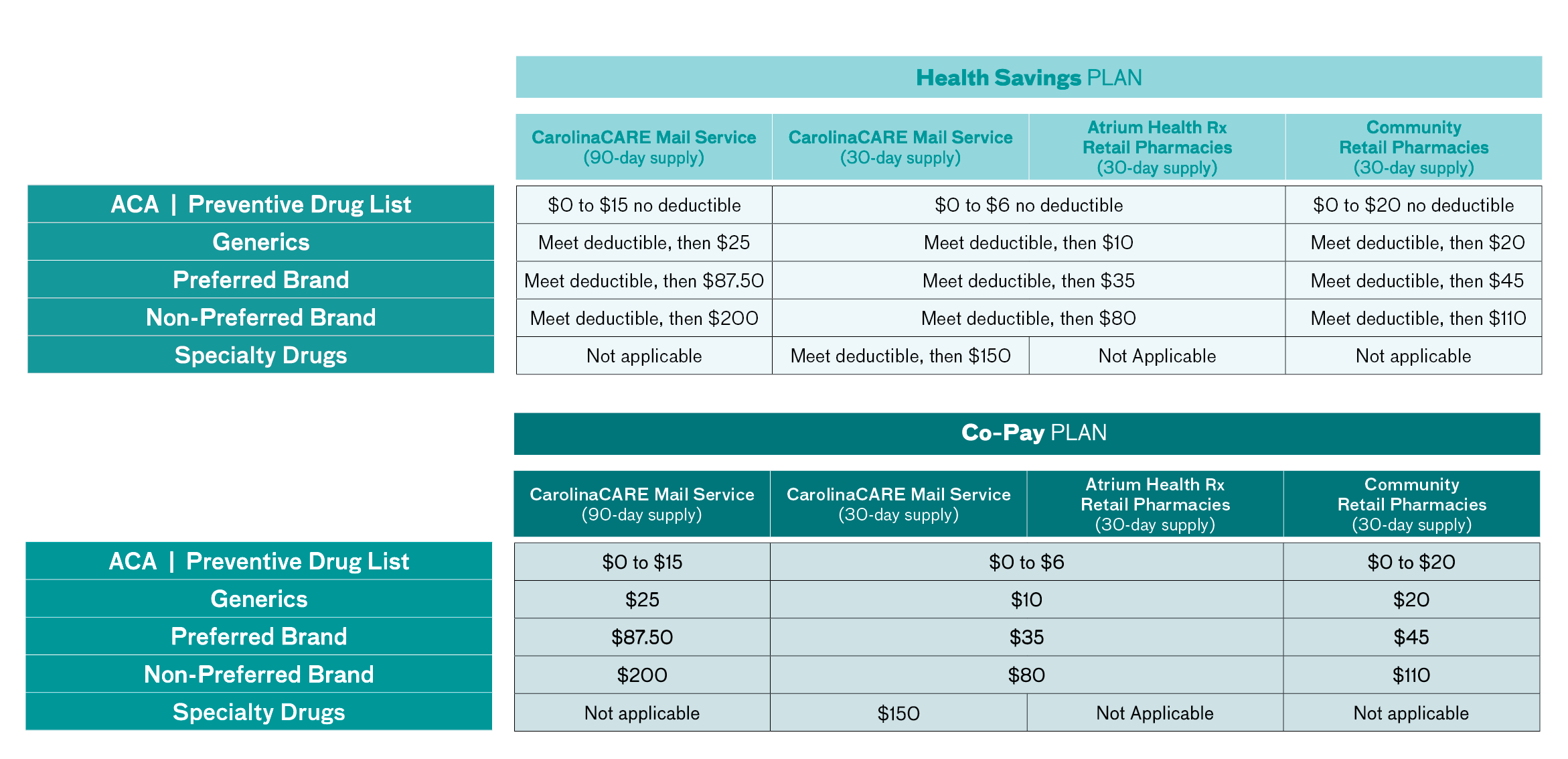 *Some prescription medications have a copay.
Deductible applies to the Health Savings Plan only
Opioid prescriptions are limited to 30-day quantity by law
Maximum of one fill allowed at retail for maintenance medications on the ACA and Preventive Drug Lists. Plan then requires transition to CarolinaCARE, or member will pay full cost, which will not apply to the deductible or annual out-of-pocket expense
Specialty drugs are filled at CarolinaCARE only. Some exceptions may apply to drugs in limited distribution
A few specialty products may be available through Atrium Health retail pharmacies if needed. Please inquire
Specialty drug copays may vary with use of manufacturer coupons and copay assistance programs
It Is recommended you evaluate your current medications and possible need for future medications and review the formulary to determine cost/tier at CarolinaCareRx.org > Get My Rx Price. If you have a chronic medical condition or take at least one medication on a daily basis, you can make an appointment and review your medication history with a pharmacist at One-on-One Rx. Visit CarolinaCareRx.org.
Tips for each time you get a new prescription:
Ask your doctor for a generic, if available
Ask your doctor for 90-day prescriptions for maintenance medications. Only one 30-day fill will be allowed at retail for Affordable Care Act and preventive maintenance medications. Then, transfer to CarolinaCARE is required. After your deductible is met, you are allowed one additional 30-day fill on non-ACA and non-preventive maintenance medications. Transfer to CarolinaCARE is then required
Visit CarolinaCareRx.org > LiveWELL Prescription Price Estimator for estimated prescription drug prices
CarolinaCARE Prescription Mail Service
The mail service pharmacy reduces your out-of-pocket expenses and the time you spend ordering and picking up prescriptions by allowing you to receive up to a 90-day supply of your medication. All prescription mail delivery services are administered by CarolinaCARE.
CarolinaCARE Prescription Refill Programs
CarolinaCARE now offers two convenient prescription refill programs. You can sign-up to enroll in either one:
MyQuik Rx Refill Reminders
Receive an automated e-mail reminder about prescriptions eligible for refill within a 2-week timeframe. Then place the Rx order for home delivery through the CarolinaCARE website or by phone at 866-697-6800 – all at your convenience.


MyQuik Rx Automatic Refills
You can select specific prescriptions to be automatically refilled, invoiced and shipped to you at the time they become due for processing and on an on-going basis.
To enroll, please log in to the CarolinaCARE website, read and accept the Terms and Conditions for your preferred refill program.

Please do not select Specialty medication for automatic refills if your specialty drug is managed by Atrium Health Specialty Pharmacy Services. The specialty team will continue to contact you each month about refills for these specific medications.
Retail Prescriptions
When a physician prescribes a medication to treat a short-term illness, you can get it filled at any pharmacy in the OptumRx network, but using an Atrium Health pharmacy will provide the most savings.
Atrium Health Pharmacy
Atrium Health has its own group of retail pharmacies, saving you money and time when you have prescriptions to fill. You will pay reduced copays when you use one of the following Atrium Health Pharmacy locations:
Atrium Health Pharmacy Medical Center Plaza (Blythe Blvd)
Atrium Health Pharmacy Kenilworth
Atrium Health Pharmacy SouthPark
Atrium Health Pharmacy Pavilion
Atrium Health Pharmacy Albemarle
Atrium Health Pharmacy Norwood
Atrium Health Pharmacy Oakboro