For Greater Charlotte Teammates
On this page:
Deductibles, Coinsurance and Co-Pays
A deductible is the amount you owe for covered healthcare services and most prescription medications.
How deductibles work on the LiveWELL Health Plans:
Health Savings Plan: Deductible applies to all office visits, medications and outpatient and inpatient services with the exception of preventive care.
Co-Pay Plan: No deductibles for office visits, medications or preventive care. Deductibles only apply to outpatient and inpatient services.
Coinsurance is the percentage you pay (with the LiveWELL Health Plans paying the majority of the costs) for covered services once you've met the annual deductible.
A co-pay is a flat dollar amount you typically pay for things like physician office visits and most prescription drugs.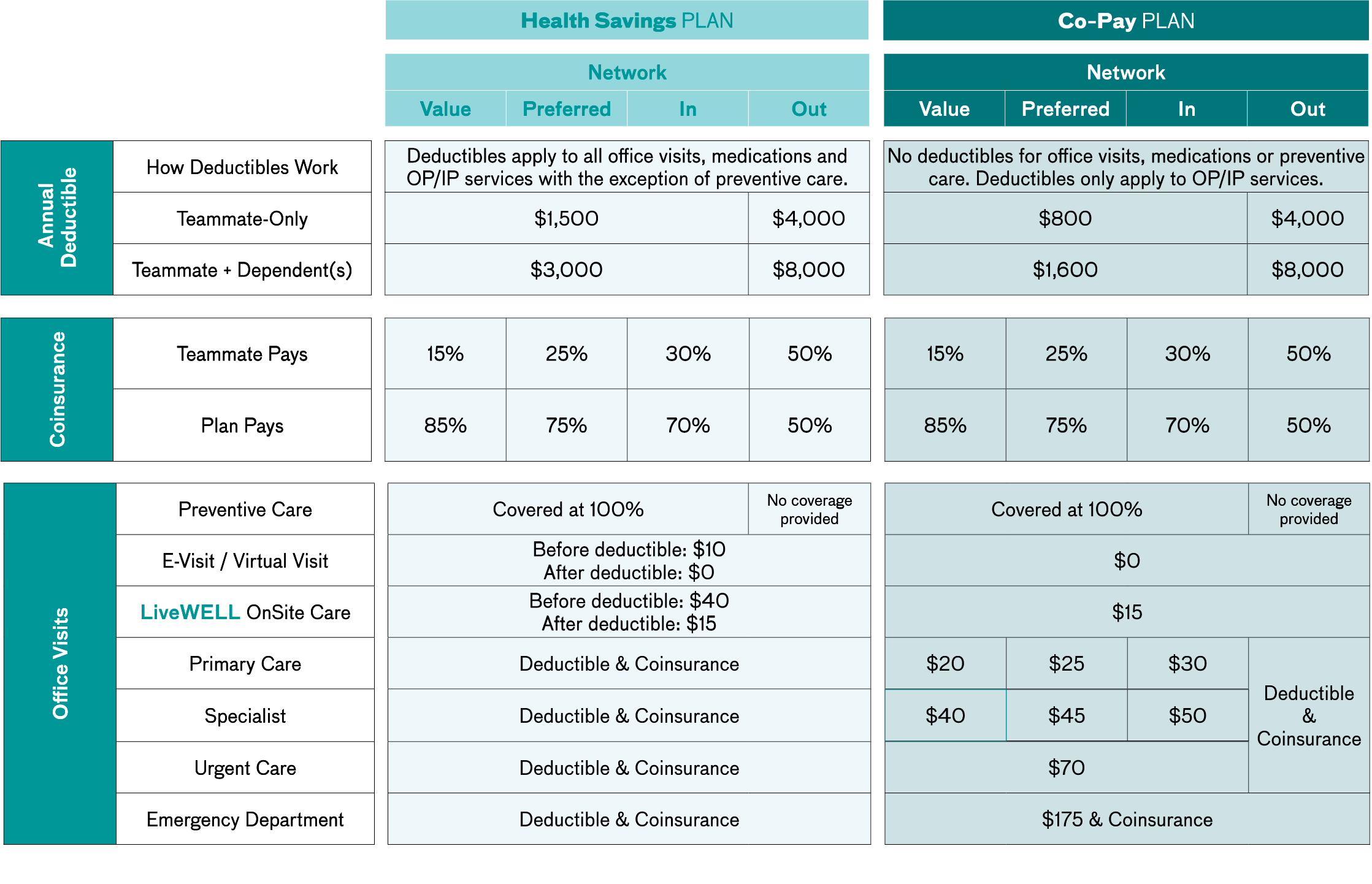 Preventive Care
The LiveWELL Health Plans cover preventive exams, labs and most preventive medications 100%.
Typically considered preventive care and covered 100% are: wellness office visits, wellness immunizations, PAP smears, mammograms and colonoscopies.
All Novant-owned and affiliated health facilities are Out-of-Network including for preventive services, except in the case of a medical emergency or in documented situations where the service cannot be performed by another In-Network provider. Claims from these facilities are subject to Usual, Customary and Reasonable (UCR) determination and may result in higher patient responsibility. Refer to Defined Terms, Emergency Medical Condition and Coverage of Medical Expenses in the LiveWELL Health Plans SPD.
Fertility Treatment
Covered only at Atrium Health Reproductive Medicine and Infertility is covered 100% after deductible with up to $25,000 lifetime maximum. Benefits are available after the covered teammate has been employed by Atrium Health for one or more years.
Out-of-Pocket Maximum
Out-of-pocket maximum is the most money you could pay annually before the LiveWELL Health Plans pay 100% for covered healthcare services and prescription medications. This maximum amount includes deductibles, coinsurance, and copayments. This limit does not include premiums, balance-billed charges, healthcare not covered by the plan, and penalties.

The Out-of-Pocket Maximum is for the entire family, but no more than the out-of-pocket maximum for an individual. For example, with the Health Savings Plan, the family Out-of-Pocket Maximum is $8,000 but no more than $4,000 for an individual.
Please note: There is no yearly or lifetime benefit maximum for your health coverage. In addition, there is no pre-existing condition limitation.