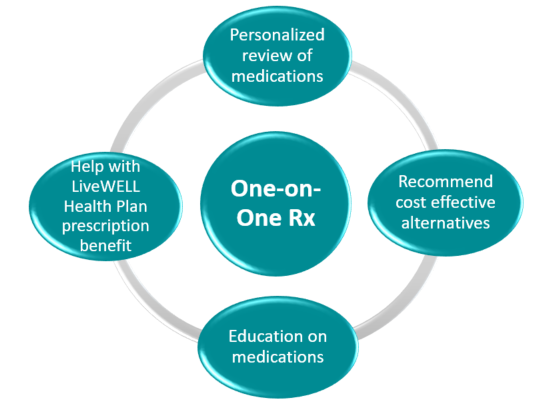 One-on-One Rx is a service designed to provide free medication reviews for Atrium Health teammates and their dependents. One-on-One Rx is a team of Atrium Health pharmacy professionals who are experts in the prescription benefit plans managed by CarolinaCARE Pharmacy. Our pharmacists strive to maintain and enhance therapeutic outcomes while saving our teammates money on their prescriptions.
Our services include:
Individualized assessment of medication regimens.
Education and counseling on medications.
Collaboration with the patient and communication with the provider for recommendations on therapeutic and/or cost effective alternatives.
Resource referral to financial assistance for medications, if applicable.
How To Schedule an Appointment
You can schedule your One-on-One Rx appointment online.
Appointments are available by phone, Virtual Visit or in person at the Airport Center, Monday – Friday 9:30 a.m. to 3:30 p.m., with select evening and weekend availability.
Things To Know About Your One-on-One Rx Appointment
Appointments may be completed by either a phone call from the pharmacist, a Virtual Visit (i.e., an on-line chat using your smartphone, tablet, or computer), or a face-to-face meeting in our office located at the Airport Center.
To qualify for a One-on-One Rx consultation, teammates must be on at least one chronic medication and have at least one chronic condition.
One-on-One Rx appointments are available year-round to provide consultation as therapies may change.
Dependents over 18 years old wishing to conduct a One-on-One Rx consultation must schedule their own appointment time.
Your One-on-One Rx appointment can be used instead of the Health Coaching incentive for teammates. Dependents are not eligible for the $100 incentive although they may benefit from an appointment.
It will take up to three weeks after your appointment for your incentive to appear in your LiveWELL Total Health Portal.
The CarolinaCARE Price Estimator Tool is available on the CarolinaCARE website to help calculate approximate medication costs before your session.
Castlight Cost Estimator is another useful tool which can aid in checking your accumulation towards your deductible.
Some teammates may already be on the most optimal and cost effective regimens, therefore the pharmacist may not have any further recommendations.