2021 Open Enrollment
Open Enrollment ended Friday, November 6, 2020.
Review your 2021 Compensation and Benefits to learn more about the benefits available to you.
Need help getting started?
Through this unprecedented time of change, Atrium Health remains focused on offering benefits to support the health and well-being of teammates and their families.
During Open Enrollment, you will have the opportunity to elect a variety of benefits to meet your unique needs and those of your family members. As you begin planning for the Open Enrollment period, now is a great time to consider if your needs have changed based on your career stage and other aspects of your life. Here are a few questions to help you prepare:
Access Open Enrollment While Working Remotely
Start on the Atrium Health Connect page.
Log in to GoRemote
Go to YourHR
Follow these How to Enroll instructions
---
Additional Questions ?
Contact Atrium Heath Benefits at 704-631-1500.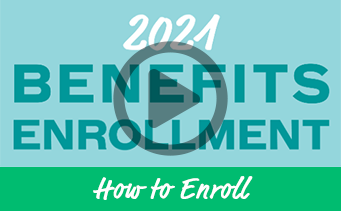 Did you know that you can increase your supplemental life insurance at Open Enrollment with no medical exams? 
Are you planning to expand your family? 
Have you considered increasing your retirement contributions based on where you are in your career or with your family?  
Have you updated your beneficiaries for life insurance plans, retirement plans and your Health Savings Account (HSA)?
Health Savings Plan
Key features:
Offers low premiums
Pretax Health Savings Account (HSA) contributions that roll-over. The HSA can be used for health expenses now and later
Earned LiveWELL Incentives go pretax into the Health Savings Account
No cost for preventive care
Co-Pay Plan
Key features:
Co-pays for primary care, specialty care and medications
No deductibles (with the exception of inpatient and outpatient services)
Earned LiveWELL Incentives go pretax into LiveWELL Incentive Account
Flexible Spending Account (FSA) provides pretax dollars for healthcare expenses
No cost for preventive care
For more information on your 2021 LiveWELL Health Plans, please see the Frequently Asked Questions.
Find the Right Health Plan for You
The Health Plan Decision Support Tool will guide you through a series of questions and show a side-by-side comparison of the expenses under both LiveWELL Health Plans.
Value Network – Managing your healthcare expenses means you know where to find the most cost-effective healthcare and prescription medications. Lower your healthcare costs by choosing the Atrium Health Value or Preferred networks.
How to Enroll
Review your 2021 Compensation and Benefits to learn more about the benefits available to you.
Be sure to have the Social Security Numbers and birth days for any eligible dependent(s) you plan to enroll. Review the eligibility requirements.
Follow these instructions to complete your Atrium Health Benefits Enrollment:
Sign in to YourHRLink, using your Atrium Health User ID and Password.
Note: If you experience problems with your Password, contact Support Services at 704-446-6161
Once in YourHRLink, in the My Open Enrollment section, click Start Open Enrollment.
Click My Enrollment to begin your Benefits Enrollment:
Click Edit next to each benefit option to make your elections. Follow the prompts on each page until you have reviewed and made all selections for your benefits enrollment
After you have made your enrollment selections for you and your dependents, return to the Enrollment Summary. Review the summary to confirm your choices.
If the summary is correct, click the Submit button.
Review the Submit Benefit Elections page and click the Submit button.
Review Confirmation page and print or save for your records.
Then, follow the prompts for your Additional Benefits selection.
To finalize your benefits enrollment, click the final Submit button.
NOTE: You can access the Additional Benefits enrollment site throughout the open enrollment period by visiting the Additional Benefits Enrollment Portal. Use your Atrium Health User ID and Password to log in.
View Your Benefit Elections
The day after you complete the Enrollment Process, you may view your Benefit elections within YourHRLink.
Go to the Employee tab > My Benefits (or My Executive/Physician Info) > My Benefits Summary and view your benefit elections for Medical, HSA, Dental, Vision, FSA and Short-Term Disability Buy-Up
Change the Date field to the effective date of your benefits (01/01/2021)
Once the open enrollment period closes, your benefit choices are final, and you will not be able to make changes unless you experience a qualifying life event.