The 2020 LiveWELL Health Plans
Teammates asked for a choice. We have heard the #VoiceoftheTeammate.
For 2020, we are adding a co-pay-based health plan option, improving the existing LiveWELL Health Plan, and both health plan options will have an Atrium Health Value Network with enhanced teammate discounts.
The Atrium Health Value Network is a new network that provides the highest level of benefit, which includes an improved teammate discount on fees for service.
2019 Teammate Webinar
In September 2019, a 2020 LiveWELL Health Plans Webinar was recorded for teammates.
View a recording of the 2020 LiveWELL Health Plans Webinar session.
2020 Health Plans At-a-Glance
The Health Savings Plan
An improved version of the 2019 LiveWELL Health Plan.
Key improvements:
Family premiums will be lowered between $34 and $51 per bi-weekly pay period ($844 to $1,326 annually)
Deductibles will be lowered for individuals from $1,850 to $1,400 and for families from $3,700 to $2,800
The Co-Pay Plan
Offers predictability with higher premiums and lower out-of-pocket expense.
Key features:
Co-pays for primary care, specialty care and medications with no deductibles
No deductibles (with the exception of inpatient and outpatient services)
Earned LiveWELL Incentives go pretax into LiveWELL Incentive Account
Flexible Spending Account (FSA) provides pretax dollars for healthcare expenses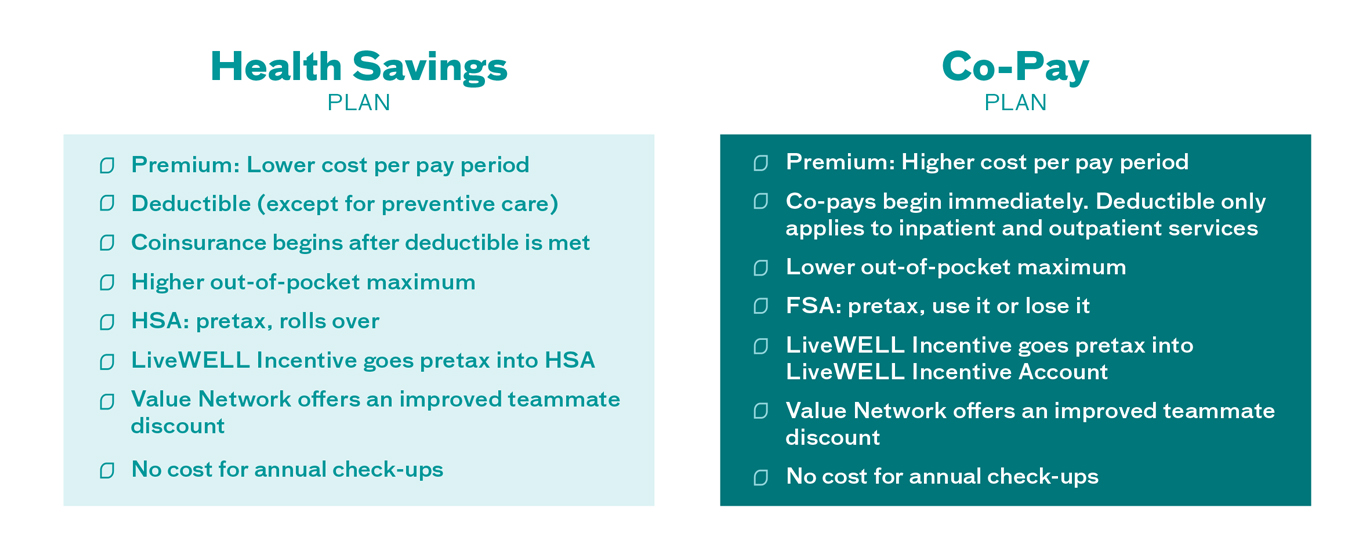 For more information on your 2020 LiveWELL Health Plans, please see the Frequently Asked Questions.